Stuck at home? Wondering why you, of all people, have to do the whole "social distancing" thing? We hear you. It seems strange for all of us to hide from a virus that isn't really hurting young, healthy people; and frankly, it's pretty annoying to have to cancel all our plans because of it. But listen: We're all being asked to keep our distance right now—even the young bucks. Let's unpack why so you can understand how important it is to play your part.
What is social distancing?
Social distancing is deliberately increasing the physical space between people to avoid spreading illness. To be specific, staying at least six feet away from other people lowers your chances of catching and spreading COVID-19.
Some examples of social distancing include:
Closing schools and/or utilizing virtual classrooms
Cancelling or postponing events and gatherings of 10+ people
Avoiding public transportation and airports
Though this practice can be trying for many—especially those having their education or work disrupted because of it—social distancing does not mean you're on house arrest. You can still go to the pharmacy and grocery store or attend essential appointments and do errands. You can also spend time with friends in small groups who have also been distancing for at least two weeks. This two-week period ensures that no one in the group has had potential exposure in that time, as the incubation period of COVID-19 is said to be two weeks. "Social distancing .... doesn't mean no one ever sets foot out the front door," Dr. Sean Morrison told NPR. "It means being careful."
Related: What Are Schools Doing About COVID-19?
Why do young, healthy people have to participate?
You may have heard the term "flattening the curve" bouncing around online. Flattening the curve refers to using protective practices to slow the spread of COVID-19. It's especially crucial that we all participate in social distancing to ensure that, for those folks who do get sick, hospitals have the space, supplies, and medical professionals to provide care.
Drew Harris, a population health researcher, told NPR, "If you think of our health care system as a subway car and it's rush hour and everybody wants to get on the car at once, they start piling up at the door. They pile up on the platform. There's just not enough room in the car to take care of everybody, to accommodate everybody. That's the system that's overwhelmed. It just can't handle it, and people wind up not getting services that they need." But if we can slow the spread of the virus so new cases are spread out, he continued, "then the system can adjust and accommodate all the people who are possibly going to get sick and possibly need hospital care."
Here's what flattening the curve looks like, in theory: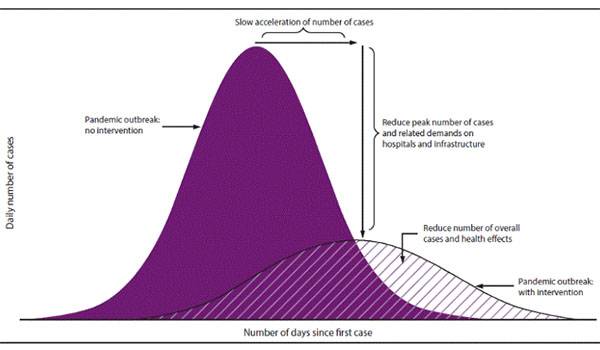 via the CDC
Social distancing vs. self-quarantining
Though "quarantine" rolls off the tongue a little easier than "social distancing," quarantining isn't exactly what we're being asked to do. Only people who have been exposed to the virus or are at a high risk of contracting it are advised to self-quarantine. Experts encourage these individuals to self-quarantine for 14 days.
You may also be asked to self-quarantine if you've recently traveled from an area where COVID-19 is widespread, or if you've knowingly been exposed to the virus (e.g., if you've had close contact with an infected person, used the same gym equipment as an infected person, or stayed where a case of COVID-19 was confirmed).
What about isolation?
Isolation refers to keeping infected people (confirmed cases) away from healthy people. Isolation can take place at home, at the hospital, or at another health care facility. You only need to resort to complete isolation if you're sick and have consulted with your doctor.
What can I still do?
There are still plenty of things you can do while you're keeping your distance from other people. Here are some ideas:
Get takeout from your favorite local restaurant. It'll help them out in a tough time and provide a sense of normalcy. Just be sure to wash your hands before and after getting the food, and make sure to eat off of dishes rather than directly from the takeout containers.
Get your nature fix. Going outside does wonders for our physical and mental well-being, and it's a great way to prevent cabin fever! Take your dog for a long walk, hit the trails for a bike ride, or go for a hike.
Keep in touch. Phone and video calls are one of the many perks of the digital age. You can still see and hear your loved ones without putting anyone at risk.
Related: COVID-19 and Virtual Campus Tours
What comes next?
Unfortunately, the situation surrounding the novel coronavirus outbreak is changing rapidly. There's still so much uncertainty regarding what's going to happen next and what we'll be asked to do about it. All we can do now is practice social distancing, stay calm, and ride this thing out...together.
For more info and advice during this stressful time, we've pooled our best resources for you. Remember, we're all in this together. Stay healthy!