For our third annual #CXGivesBack Giveaway, we have five sponsors who have graciously donated products to our final prize bundle! These companies all give back to the world in different, amazing ways, and we want to share their stories with you.
4ocean

Do you like sea creatures? Do you go to the beach? If you answered yes, you'll like 4ocean! Their mission is to clean the coastlines while working to stop the influx of plastic by changing consumption habits. Every item they sell funds the removal of one pound of trash from the ocean.
4ocean was created by two men who were disappointed by the amount of trash piling up in the ocean—they wanted to make a change and spread awareness. They started by hiring people to clean up the beaches, and that led to a business with a pledge to pick up one pound of trash for every 4ocean bracelet sold.
The ocean currently holds about 500,000,000 pounds of trash! Since 2017, 4ocean has recovered 7,097,554 lbs of trash. They can be another pound closer with your help!
To learn how you can get involved with 4ocean, check out their website.
4ocean donated two bracelets, a reusable water bottle, and a T-shirt!
Headbands of Hope

According to the American Cancer Society,"About 11,060 children in the United States under the age of 15 will be diagnosed with cancer in 2019." That's an upsetting statistic, but what can we do for these children? Give them hope!
Headbands of Hope believes headbands are a great way to restore confidence in kids during cancer treatment. That's why for every item sold, they donate a headband to a child with cancer.
Headbands of Hope was inspired by a summer internship at a wish-granting organization. Jess Ekstrom saw that a lot of kids loved to wear headbands after losing their hair during chemotherapy. She did a Google search and realized there were no businesses donating headbands to kids with cancer, only wigs and hats. Jess started Headbands of Hope out of her dorm room in college with two headbands, her computer, and a burning passion to help kids.
The company has donated over 450,000 headbands so far, and they've been able to send at least one headband to every hospital in America as well as hospitals in 15 other countries!
To learn how you can get involved with Headbands of Hope, check out their website.
Headbands of Hope donated two beautiful headbands!
LifeStraw

Have you been hearing more about chemicals in your water? Water filters are becoming more and more of a necessity for safe water. And some places don't have the resources to filter their water.
How can we help? When you're looking to buy filtered water bottles or containers, buy from LifeStraw because for every product sold, a child in need receives safe water for an entire school year.
LifeStraw started when Carter Center asked Vestergaard, the parent company of LifeStraw, to create a water filter that would remove Guinea worm larvae from water. This eventually led to a bigger issue of cleaning contaminated water. With the work LifeStraw has done, they've been able to provide 3,367,145 students with one year of safe water.
To learn how you can get involved with LifeStraw, check out their website.
LifeStraw donated three LifeStraw Go water bottles!
Pacha Soap Co.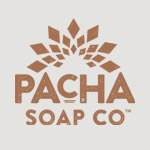 What's another way to give to others? By empowering them—empowering, supporting, and giving people opportunities to make their world and their family's world better. That's the mission of Pacha Soap Co.: to use their profits to support ethical sourcing, a clean water initiative, hygiene education, and small business opportunities.
Pacha Soap Co. started when cofounder Andrew Vrbas visited Peru on a school trip and witnessed basic human needs not being met. Andrew realized he could help them be the change they wished to see in their own countries. Instead of just giving, he wanted to empower people to discover their entrepreneurial spirit. He realized soap can be made in even the most remote locations and started to grow Pacha Soap Co.
Pacha Soap Co. helps communities by providing training and financial support of small businesses. Well-drilling teams provide communities with clean water. School soap clubs promote healthy habits.
To learn how you can get involved with Pacha Soap Co., check out their website.
Pacha Soap Co. donated three bath bombs, three bars of soap, and whipped soap and scrub!
Thistle Farms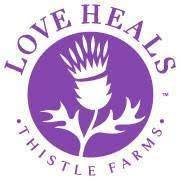 What if you didn't have a safe place to rest your head at night? What if you had children? Thistle Farms started to help women survivors get back on their feet by enrolling them in a two-year residential program and providing the women with employment opportunities.
Thistle Farms was created by Reverand Becca Stevens, whose vision was to create a community where women could heal from years of trafficking, addiction, prostitution, and the violence of life on the streets.
Women in homes were working toward a better life, but they were struggling to become financially self-sufficient due to multiple employment barriers. So Thistle Farms started a small candle and bodyworks business with the goal to help women gain work experience and an income generated through their product sales.
Thistle Farms has provided 10,000+ nights of safe, supportive housing for women recovering from life on the streets, and 75% of program graduates over the past five years are employed, sober, and successfully living on their own.
To learn how you can get involved with Thistle Farms., check out their website.
Thistle Farms donated a holiday cinnamon cedar candle!
To learn how you could win all these awesome prizes (and other daily giveaways), click here and check out the #CXGivesBack calendar.