Hogwarts may be a school of witchcraft and wizardry, but it isn't exactly where the magic happens . . .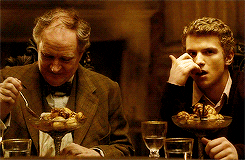 Warner Bros. via giphy.com
But that all changed on February 26 when Boston University hosted a "Sex-Ed at Hogwarts" seminar as part of the school's first "Frisky February" initiative. The month-long sexual health awareness series, hosted by BU's Wellness and Prevention Services, included programming such as an aphrodisiac cooking class, "sexploration" workshops, and a Harry Potter-themed discussion guaranteed to make Ron Weasley turn redder than his hair.

Photo: Boston University Student Health Services
"Ever wonder what it would be like if Hogwarts taught Sexual Education?" asked the Facebook event. "With all of those adolescent wizards and witches running around, we think it would be useful."
According to Wellness and Prevention Services graduate interns and event coordinators Jamie Klufts and Michelle Goode, J.K. Rowling tiptoed around the taboo topic in her books. Some innocent romance is included, but "how can you have a school full of [teenage] wizards and not talk about sex and sexuality?" Klufts asked The Boston Globe.
So the two grad students decided to fill in the blanks to create a fun and interactive sexual health education event for the BU student body. Goode explained that they used characters, scenarios, and wizarding references from all seven books in the series "as an opening and avenue to get the conversations started" on serious subjects such as safe sex, self-pleasure, and STIs.
And the Potter puns started early on: ". . . Half-bloods, house-elves, and muggles alike will learn the proper way to get consent to enter one's chamber of secrets and how to snog without getting hogwarts," advertised the event, which also provided students with chocolate-covered pretzel wands, butterbeer Golden Snitch pops, and, of course, condoms.

Photo: Boston University Student Health Services
"It's kind of an awkward topic, so it's great to bring in different characters that people love in this magical world that J.K. Rowling created and really make things fun," Goode told Huff Post Live.
"Anytime you can use a pop culture reference and weave public health into that, you're going to draw attention, and that's really what we tried to do," added Klufts. The creative angle worked, with 100 people RSVP'ing online and the event garnering attention from Buzzfeed, MTV, and other media outlets.
We just hope that BU's Quidditch team was in attendance to explain more about the birds and the Beaters.