If you're like me, you start most years swearing to be a healthier person overall, but within a month of school starting again you find yourself shoveling Doritos with one hand and trying to finish your biology notes by 1:00 am with the other. If this sounds like you, there's no need to feel bad. Oftentimes we try so hard to do well in school that we leave our mental and physical health behind. But no more! This year you're going to get all A's and stay healthy; here's how.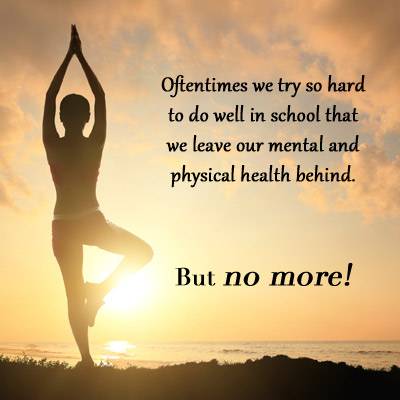 Exercise
Work out mind and body—For me, time is the biggest constraint I have when it comes to working out. One of the easiest ways to stay fit and get work done is to multitask! Last semester I brought my economics textbook to the gym and propped it up on the elliptical so I could read while I exercised. If you don't have a machine to work out on, you can get an audio book of whatever novel you're reading in language arts and listen to it while you run around your neighborhood, or keep SciShow and Crash Course videos on in the background while you work out at home.
Multitask—The tips above also work for down time. Sometimes I read my textbooks when I go on the elliptical, but that's also where I watch my Netflix. In fact, I had a rule for myself last semester that on weekdays, I could only watch TV while I was exercising. Additionally, if I'm on the phone with a friend or relative, I go take a walk while we're talking instead of staying inside and lying on the couch.
Structure—If you have the time and the money, I also highly recommend going to scheduled classes. I go to two Kung Fu classes a week and three yoga classes a week, and nothing kicks me off the couch quite like a commitment. Sometimes it can be hard to find the motivation to go to the gym, and it's easy to tell yourself that you have no time, but going to a pre-scheduled class or even just having gym time designated in your calendar will really motivate you to make time for your health.
Food
Eat in—As easy as it is to tell yourself that fast food is both cheaper and more efficient than healthy eating, once you start trying to cook more for yourself, you'll realize how untrue that is. On Sunday night I usually make myself a huge stir fry that I bring to lunch every day and heat up in my teacher's microwave. Stir frys are great because they take very little time (for me, about half an hour, including prep) to make and they are highly nutritious—I make mine using leftover veggies in the fridge and a pound of tofu. Alternatively, you can make soup, casseroles, or any food that yields a large output for minimal effort. For other meals, salads, sandwiches, and soup (canned or homemade) are all delicious and viable options, and in the end probably just as fast as driving out to get junk.
If you must—We all have bad days. As much as I encourage you to not eat your feelings, that expectation is unrealistic. Colleges might reject you, quizzes might drop your grades, personal drama might stir up, and in any of those scenarios, nothing will make you feel better than eating a carton of ice cream that's roughly the size of your woes. And that's okay! No one is perfect, so my first piece of advice is to not guilt yourself for eating a tub of caramel corn, because that guilt will negate any pleasure the caloric overload provides. I do, however, encourage you to be reasonable in your indulgences. Personally, I like to buy frozen yogurt rather than ice cream (it comes in chocolate chip cookie dough flavor, don't worry) or buy a single cupcake at the grocery store instead of a whole cake. This way I'm limited by my portion size. If you want a quick fix, I also love to make single servings of raw chocolate chip cookie dough.
Mental health
See your friends—I cannot emphasize this enough. If you don't interact with other human beings at least once a week, you will find yourself grumpier, easier to upset, and less productive. So, plan ahead and make time to spend with people you love. Get frozen yogurt, take a walk, play SoulCalibur—it doesn't matter, but do something besides schoolwork with your friends. My friends and I have a sleepover once a month to keep in touch; there's no shame in scheduling hangouts ahead of time. In fact, it will make you more likely to keep the date.
Treat yo self—Paint your nails, play Fallout, make cookies, call a friend, but whatever you do, make it completely superfluous. Set time aside to not be productive. Managing your time and multitasking is all well and good, but you should also take time to relax and be by yourself.
Keep yourself happy—Keep your room clean, your clothes washed, and eat regularly. Living in filth and skipping meals to finish schoolwork is going to make you less successful overall. You can take five minutes a day to clean your room, and I have a friend who sets timers to remind herself to eat. School is not more important than your health.
That last sentence is the most important. Keep your mind and body in alignment and everything else you do will be much more fruitful. Good luck, and have a healthy year!