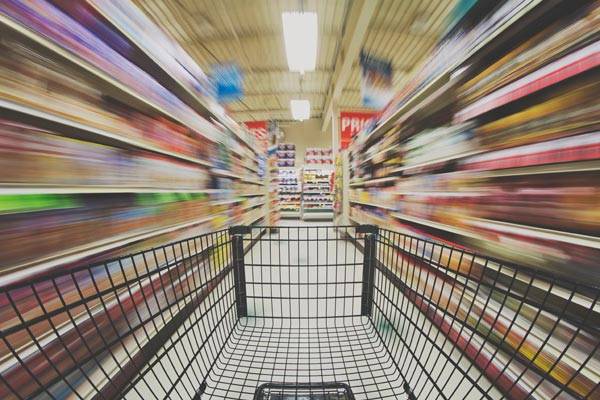 You just paid for this semester's tuition, dished out for the costly room and board, and purchased textbooks at an ungodly rate. Just as you convince yourself you'll be eating ramen noodles for every meal, you come to a horrible realization: you still don't have everything you need in your dorm for the upcoming semester.
Before you start weeping into your case of Top Ramen, try these five ways of saving money while shopping for the many necessities of dorm living.
Make a list
You might be wondering how exactly this applies to saving money back-to-school shopping, but it is actually one of the most productive things you can do when you begin to shop for all your dorm needs. Making a list forces you to think about the absolute necessities, and it ensures you know exactly what you need before you head to the stores. Without a list, it's way too tempting to wander around Target and use up your life savings to purchase things you don't actually need.
In putting together your list, separate things into "needs" and "wants" so when you head to the store, you get exactly what you need in your dorm and not just a new video game console or Vera Bradley bedcover. On top of helping you purchase only necessities, a list will also help make sure you don't forget anything!
Check with your roommate
It is super helpful to get in touch with the person you will be spending the next four months with before the semester starts, not only because it takes some of the pressure off of living with a stranger but because it helps you plan your dorm shopping.
Coordinating with your roommate allows you both to divide up some of the dorm requirements, such as a trashcan, coffee pot, or Febreeze! For example, your roommate might buy the shower curtain while you buy the bath mat. It even works for more expensive items like a microwave and mini fridge. Of course, depending on how well you know your roommate, you might want to check in to make sure they kept up their end of the bargain.
Related: Dorm Sweet Dorm
Avoid your favorite stores
It's easy to get excited about furnishing and decorating your new home and head straight to all your favorite stores. But to best defend your budget, choose your stores wisely. For example, instead of Target where everything is cute, handy, and pretty expensive, head to the lesser-known stores such as Ross or Marshalls. Though you have to do a bit more hunting around at these stores, the prices are nowhere near what you'll pay at J.C. Penney. Maybe the sheets won't be silk and the bath rug won't have memory foam, but when you're on a college budget, these are things you simply don't need. When it comes to food, shampoo, or other items you might need in bulk, consider purchasing at a bulk store like Sam's Club if you have—or can borrow—a membership card. This can cut your grocery bill down and save you from having to go to the store as often.
Finally, don't just shop at name-brand stores. Check out Goodwill, resale stores, or local thrift stores. Depending on what you are looking for, Goodwill usually has a wide range of things you might need from a couch or a lamp to dishes or curtains. Also, Goodwill sometimes gets in shipments from Target, so if you're lucky, you might get your Target décor on a Goodwill budget!
DIY
This tip isn't just for the art major or crafty person. Today, there are many ways to learn how to make items you need or want at a much cheaper rate than purchasing pre-made from a store. Check out YouTube, Pinterest, or crafty blogs for inspiration on cheap, DIY dorm projects. Depending on where you live, it might pay off to drive around before trash pick-up days and look for craft items, such as discarded chairs you can remodel for a few dollars' worth of new material or wooden pallets you can turn into a designer-looking headboard. Plan to wake up early on Saturday morning and hit the town to look for items at yard sales that you can turn into a craft project, and don't forget you can negotiate the prices at yard sales. The best part about DIY dorm projects is not only the incredible savings, but each item will be a great story and way to show off your skills!
Scan the Interwebz
Time to put all your hours spent on social media to good use. If you are having trouble finding a good deal on items you need for your dorm, try posting a shout-out for it on Facebook, Twitter, Instagram, or your favorite social media. It isn't unlikely that one of your friends is looking for some quick cash and would be willing to sell you said item at a good price. Whether you're looking for a new laptop or night stand, purchasing from someone you know might be more comfortable than getting it from Craigslist.
However, if you put your needs on social media and merely get a few likes, it is a good idea to look at eBay, Amazon, or Craigslist for deals. On Amazon, you can sign up for Amazon Student and get free shipping with all your purchases for a set fee each year. Depending on what you need to purchase or how often you use Amazon, this can be a great way to save money.
A month from now you'll be sitting on your dorm room bed (probably still dining on Top Ramen) gathered with all your friends who are impressed with your amazing dorm room, because they spent twice as much as you did for an equally furnished dorm room. Smile and nod as they compliment you on your gorgeous nightstand you got from the re-sale store, the stylish curtains you purchased from Goodwill, the MacBook your rich friend sold to you after his parents got him the newest upgrade, and the rug your roommate bought since you provided the bathroom necessities. Though you might not be rolling in cash, at least you made it one more semester and with the best dorm room at that.
What are you doing to save money on your dorm shopping this year? Any tips for savvy shoppers? Let us know in the comments below or get social with us.