It's been a busy summer at CollegeXpress—we've had a fun summer giveaway, gotten lost in a couple of books, and completed almost a full year of our monthly podcasts! But now we have some really cool news about a huge update: we have a new logo! (We know—we can hardly contain our excitement either.)
You've probably seen it on the site already, but we wanted to introduce you to this new design. Our new logo truly puts you and your college search goals at the center of who we are. Check out the video below:
All about our new logo
At CollegeXpress, our job is to help students find their best-fit colleges. We also refer to ourselves as the CX Team, so we decided we wanted both of these aspects to be reflected in the new design. Focusing on the "C" and "X," we came up with the following concept.
The letter C stands for the word "college" of course, and we've placed a person icon inside the letter to represent us connecting you with your best-fit colleges.
The "X" in our name stands for "express," so we put a forward-facing arrow inside this letter to show your journey moving forward.
When you combine the letters, our primary mission is clearly visible: CollegeXpress wants to connect you with your best-fit schools as quickly and easily as possible! It's at the center of everything we do, and now it's right in the middle of our logo too.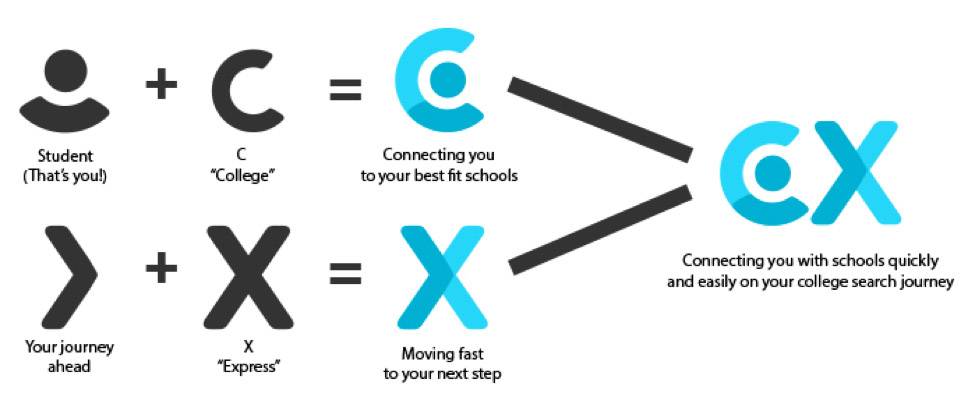 Why change now?
CollegeXpress has grown significantly since launching in 1995, and we wanted our brand to reflect who we are today. The old orange and blue logo with the swooping "X" was first introduced in 2010, and we felt we needed to adapt to our audience—we've grown from just being a website to being present in all forms of digital media like emails, videos, and podcasts. Our new logo now unifies our look and messaging using a modern and simplified design that clearly illustrates our story, audience, and goals. Plus, you know us as the CX Team—something that was never represented in our logo until now.
New look, same CX
We may have a sleek new look, but we're the same college and scholarship resource you've come to know and trust. We're updating our navigation to coincide with our logo launch too, but the main site will still work and function exactly the same. You can still connect with your favorite colleges, search for over $7 billion in scholarships, find tons of articles and advice about the college search and beyond, and enter to win a $10,000 scholarship just for registering! We're still the same people behind the scenes too—the good-ole CX Team.
This logo update isn't changing who we are, it's just making our message clearer. As you grow, so do we, and we're excited to be a part of your college journey!
If you have any questions or comments about our new logo, feel free to contact us. We hope you love it as much as we do!