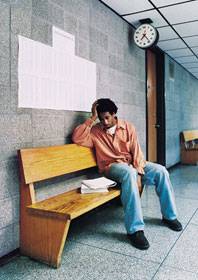 Student life is often a lighter topic: dorm decorating, campus organizations, and everything in between. But a subject that is often overlooked is a big part of the student's life: mental health. Regardless of social status, geography, major, or any other classification, college is a huge change in the life of a student, and can often lead to some sort of mental instability. Whether it's simply homesickness, or a more extreme diagnosis, here are some tips to stay in tune with yourself and your mind.
Keep some routines
College is a great place to start with a clean slate regarding academics and extracurriculars, but try to continue things that your body and mind are used to. Did you jog once a day in high school? Try to keep that routine to prevent college from being too much of a dramatic change. Although you'll want to improve some of your organization skills, don't alter them too much; chipping away at your to-do list is hard enough, so don't take drastic measures to change how you make that list. Did you keep a calendar in high school or color coordinate your assignments? Carry that into college!
Baby steps
New students are finally beginning to foster a sense of independence, but you don't want to dive so deep that you start drowning. If you think you may get overwhelmed, take on new initiatives one by one. If there are three campus organizations you want to join, try starting with the more laid-back organizations later in the semester or year—for example, you'll want to begin Greek recruitment as soon as you can, but if you want to put something off, choose a club or organization that has rolling acceptance. This goes for classes too—if you start off the year with the maximum amount of credits per semester allotted, you may run out of steam before you have even started the academic climb.
Pause
Sometimes, you just need to hit the pause button to check that you're in the right state of mind. You want to keep yourself busy, but in between time for your studies, activities, and social life, you need to occasionally stop and smell the roses. Take a yoga class, go for a walk, meditate, or do anything else that makes you comfortably clear your mind. The pressure of exams and the demands of college life can highly impact your stress level, and the short-term implications of high stress include changes in eating habits, sleep deprivation, and much more.
Be honest with yourself
If you are having extreme mental anguish that you've never experienced before, it could be much more than just everyday sadness or stress over an upcoming test. If you're in the least bit of doubt about your own stability, contact someone immediately. You can speak to someone you're comfortable with, like a parent, relative, or friend, although it's always best to contact a professional if you feel that you cannot self-diagnose the internal issues you may be having. Many campuses offer complimentary mental health services, including seminars, group discussions, online information, and even professional counselors who can guide you in the right direction. As long as you're honest with yourself and take the necessary steps to care for your well-being, you'll be well on your way to having a successful college career, a sound mind, and an enjoyable college experience.