The semester is finally over. Finals didn't last forever, and we got through it! With the new year, many of us are probably in a reflective mood. (If you aren't, just wait until everyone asks what your 2016 goals are.) I initially wanted to write this article as a list of things you should reflect on as the semester ends. Everyone's list is obviously different, but for the most part, college students everywhere have commonalities. As I tried over and over to write this ideal piece, I realized I could not write such an article without including my own personal reflection. Thus, I have decided to write myself a letter, and I hope that anyone who stumbles upon it can at least be as honest in their own reflection as I am.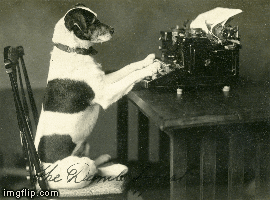 Via giphy.com
Dear Darin,
I am so proud of you. You have not only done well this semester, but it was your first semester away from home, and you did your best. I think you adjusted quite well, and that is only the start. You should be proud of yourself, because that is what's really important. Forget about making everyone else happy, because they have their own hearts and journeys to follow. I know that not everything went the way you hoped it would this semester—you didn't quite get the grades you hoped for this semester, and you had to use your plan B, C, and D instead of your ideal plan A. But that's okay . . . that's life! Don't stress out over what went wrong; you should focus on the things that went right, even if they did have to stumble together. That's life too. You gave it your all, and that's what counts.
I could go on and on about what you've accomplished so far, and how you have to maintain it, but I won't. College is hard, and you deserve a little break. Treat yourself while you're not in school, because you earned it. You pushed yourself for four months, and the only thing I want you to make sure you keep doing is what feels right. Like I said earlier, everyone has their own journeys to follow, so what's best for you isn't what's best for your best friend, significant other, or even your favorite cousin. Life has no rules and is too short to live for others.
I want you to take a look at the past semester and make some goals for the next one. I'm not talking about those unrealistic, go-to-the-gym-twice-a-week New Year's resolutions. I mean ones that you know you can get done in the next four months. Maybe try out some new study tips, join a new club, or just try to relax some more. You don't have to figure out everything right now; the semester just ended. But at least start thinking about them. Spring will be here before you know it, and if you can keep up with your semester goals, you'll be so pleased with yourself by May. I believe in you!
Have a restful break,
Darin