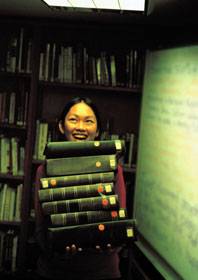 What a lovely time of year, isn't it? Holiday celebrations galore, shopping for bargains, and endless holiday cheer—these are all wonderful things that make December so enjoyable. But there's one, tiny detail that overshadows this blissful time for college students. The season of giving is also the season of studying. Yup, college finals are in full swing.
Colleges and universities want you to work hard, but they also don't want to find you in the library curled up, twitching in the fetal position while surrounded by piles of textbooks, notes, and empty coffee cups. All human beings need a break, so colleges and students have taken on the task of helping those dedicated studiers relieve some stress. Here are some things colleges across the country—and world—are doing to make those study sessions slightly less miserable.
Making headlines recently was a school north of the border: Dalhousie University in Halifax, Nova Scotia, set up a puppy room for students to go play with some four-legged friends before finals. The article said that some students waited as long as 45 minutes to get in and see the dogs!
For some colleges up north, the winter weather is doing nothing to brighten the days of those hard-working students. So Cornell University took this into their own hands and put in some grass—yes, we're talking library turf here, people—so students could feel the "cognitive relaxing effect" of lounging on a lawn.
Some colleges have slightly less pastoral, more aggressive approaches to stress relief. Many schools take part in a scream fest where students literally shout at the top of their lungs, taking out their final exam frustrations. A few colleges that do this include Messiah College, Stanford, Carnegie Mellon, and Northwestern, among others.
Sometimes it isn't the people making the loud noises but, rather, more traditional, harmonious instruments. At Columbia University, one final exam that's feared by many is the organic chemistry final. So the band likes to lighten the mood a bit by bursting into the library the night before the exam and playing the alma mater.
Finally, let's be honest: food cures all ailments, so some colleges choose to serve late-night munchies for those students hitting the books. A "Midnight Breakfast" takes place at Longwood University where the food serving isn't done by cafeteria workers, but by professors and school administrators! Talk about payback . . .
For some students, apparently the perfect cure for finals stress is getting naked. Penn State students gather around Mifflin Road for the "Mifflin Streak"—sometimes, students congregate only to see nothing, but other years, it's quite the contrary. At the U.S. Military Academy, new cadets resigning their appointments take part in TEE (Term End Examination) week, where cadets go streaking, since there's no fear for retribution.
There are tons of traditions at college campuses to help students relieve the stress of final exams. What are some other things you've heard about or experienced? Share them in the comments below!