As I was perusing pictures for the CollegeXpress social accounts around Thanksgiving, I came across this T-shirt and it was everything I could have asked for. Hilarity: check. Truth: check. Thanksgiving awkwardness: check. And it was a hit across all of our platforms. Why? Because it was solving a problem everyone has (especially high school and college students) when they go home for the holidays.
We've all been there at a holiday dinner with relatives who ask the super uncomfortable questions. With Christmas, Hanukkah, Kwanza, and other holiday shenanigans happening right now, what better time to confront these questions head on? They are inevitable, so we might as well be prepared!
Some of these might not apply to you right now, but they might in the future—an even better reason to bookmark this blog and save it for later.
1. What are you going to do when you graduate?
It's easy for relatives to ask this because they've already lived it. They had a plan, so you should too, right? It's really hard to put focus on life after graduation when you have a semester or two left, so I recommend telling Aunt Francine that you have a few ideas rumbling around and you'll be looking into them more as graduation gets closer.
And then: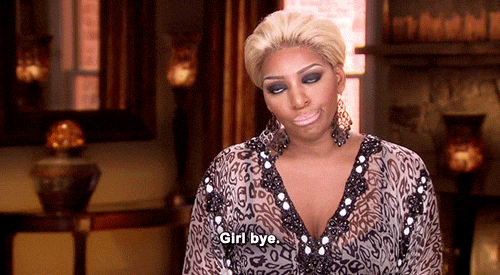 Bravo TV via giphy.com
2. Are you dating anyone?
It depends on how open you want to be about this. Some people are comfortable talking about their relationships, while others, like me, want to crawl into a hole. If you're crawling into the hole with me, the quickest way out of this question is the good old deflect: "No, not anyone right now. I love school and homework."

NBC via giphy.com
3. Do you have a job yet?
Finding a job isn't easy. For every person interviewing, there have to be five to 20 other applicants (depending on the strength of the industry). For this question, drop some cold, hard statistics on the job search with this infographic from MidAmerica Nazarene University.

FX via tumblr.com
4. Can you show me how to Twitter?
My only advice: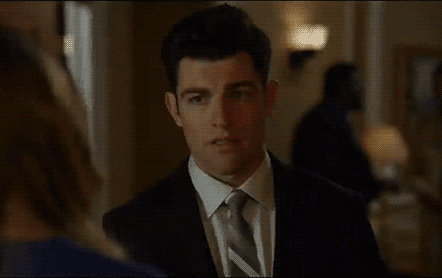 Fox via giphy.com
5. Are you making a good salary?
Money's a weird thing to talk about; it makes people angry. Your best bet is to stay neutral or they'll try to persuade you to find another job or give you ways to ask for more money. My theory is that you already have an idea about what your plan is when it comes to salary, so you don't need extra unsolicited opinions! Thanks, but no thanks.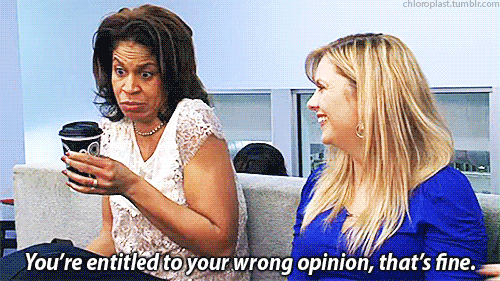 Lifetime via giphy.com
6. Did you decide on your major yet?
If you're a freshman or sophomore in college, this question is easy peasy: you're just completing the general requirements before you start your major, so you don't need to decide right now. If you're a junior with doubts, go general. Business, liberal arts, or science—no need to nail things down right now!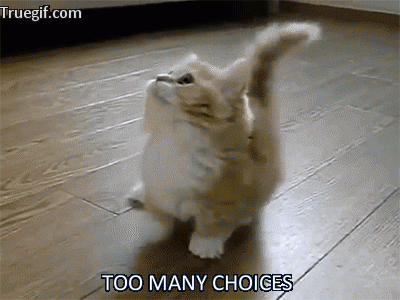 Via giphy.com
7. This is your last semester! Are you ready for the real world?
Fact: no one is ever ready for the real world.

NBC via tumblr.com
8. Your career choice isn't that lucrative. Have you ever thought about engineering or finance or [insert blank career here]?
Everyone's choices are better when they are judging someone else's! If you're an artist at heart, odds are you aren't going into accounting. I would kindly explain why you chose the career you're in and why you love it. Maybe it's short-term. Maybe it's your passion. Maybe you just don't know. The important thing is you have a job and are a productive member of society!

CBS via tumblr.com
If you're still agonizing over these impending convos, you can go about the FAQ route that Arianna Simon came up with. Put a pamphlet together of all the questions you normally get asked and answer them right off the bat as your relatives enter your home. If this happens, please tweet us!
Merry Christmas and Happy Holidays!