My brother is one of my most favorite people in the world. Even though he was born two and a half years after me, he and I progressed through life at a relatively similar speed. We watched all the same shows (aka Power Rangers), hung out with the same friends, and even did a lot of the same activities (which meant he did ballet for a few years). However, we were always treated like individuals with very different talents, so we did not feel the need to compete. Put all that together and you get a pretty solid relationship.
But that relationship was put on hold for two years. I moved from Virginia to Oklahoma for college, so my time with him was reduced to Christmas and rare summer nights. It was a total bummer being so far from my family, especially the guy who was my constant friend growing up. Then the most incredible thing happened! My brother decided to follow me to Oklahoma and is currently a freshman at my school. We have been reunited at last, and everything is perfect. (Just kidding…)
College forced me to mature at warp speed. Becoming a resident advisor, struggling with a tough major, and trying to excel in other leadership positions I was given forced me to adapt. I am by no means the confused, overly flirty, insecure freshman who walked onto campus two long years ago. I have learned the difference between a true friend and an acquaintance. I also now know how to prioritize. That doesn't mean I don't miss freshman year. I totally do. It was fun to act stupid and have way too much time to socialize. And I'm not going to lie, it's hard to watch new students have that experience and know that chapter of my life is over—a chapter my brother has just begun.
His new friends are his life, which is how it should be. He is meeting more people than he knows what to do with and trying to figure out how this college thing works. His life is being twisted and turned, and I'm just trying to figure out if there is room for me somewhere in the mess. Perhaps there is, but right now I just don't know. Our crazy twisted paths rarely cross, and I am just hoping that when the dust settles we will be able to reconnect. My question is, will life ever really slow down?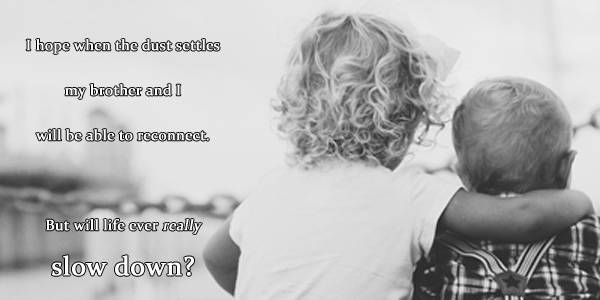 I go to a small university where you can recognize pretty much everyone, so my brother and I are often labeled as siblings. He gets introduced as "Christi's brother" and I am introduced in the same manner. I think that's awesome, because I love my brother and it makes me feel connected to him. However, those introductions come with a twinge of sadness, because I feel like we aren't living up to the title. Am I wrong? Is family just a title, or is it an action? Genetics may determine your birth family, but the reciprocation of love determines your true, ride-or-die family.
I refuse to give up on learning how to be a sister. I will only be a student for a couple more years, but I will be a sister for the rest of my life. If that means giving my brother space, then he can have all the space he needs. At the end of the day, he knows I'm here for him. Whether I am a major or minor character in this part of his life, I know I am guaranteed a role for life.
Do you go to college with a sibling? Share your story in the comments!