Okay, full disclosure: I'm turning 31 this week. Having cleared the hurdle of turning 30 last year, I assumed 31 wouldn't even faze me, but for some reason, this birthday is throwing me into a full-on existential crisis. Why am I here? Where am I going? How is it possible to have acne and wrinkles at the same time? Why is this music so loud? And why is my Facebook feed full of baby pictures?!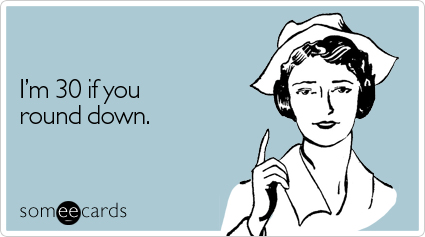 Don't worry. You've got years and years before you have to worry about all of that. And I have to say, getting older is actually pretty great in a lot of ways. Sure, there are lots of un-fun responsibilities like mortgage payments and saving for retirement and having to buy all my own groceries. But I also have my own money, limitless freedom, and, most important, experience.
There are so many things I know now that I wish I'd known when I was in high school and college. If only someone older and wiser had deigned to impart their knowledge to me! Well, actually, there's a good chance someone did, but, in my teenage arrogance, I didn't pay attention. But in hopes that you, dear reader, are more receptive to advice than I was, and in honor of my impending birthday, I've decided to bestow upon you the gift of my own hard-won wisdom.
Nope, nope, don't even say it, because, first and foremost . . .
You do not know everything. At 18, I thought I had just about everything figured out. Well, let me tell you something, kiddo: no one has everything figured out. Life has to be tackled one day at a time, and it's a never-ending learning process. Always keep an open mind and be willing to listen to others.


If you really want something, go after it with everything you've got. I am not without regrets. Goodness knows I've wasted time on my fair share of time on pointless endeavors. If I could go back and change anything, it would be to chase down my dreams more aggressively. Have your heart set on a certain college or career? Do everything you can to make it happen—even if it doesn't, you'll sleep better knowing you gave it your all.
Be nice to your parents. Your parents love you and they mean well. They may not behave exactly the way you want them to sometimes, but they're only looking out for your best interest. Treat them with respect, even when it's hard to, and when you go off to college, make sure you keep the lines of communication open.

Your grades are more important than your social life. I'll admit, I let my social life get the best of me my senior year. I was taking AP classes and I had an afterschool job and a thousand fun things to do every night and on the weekends. And I was exhausted. I should've sacrificed the fun stuff, but instead, I sacrificed sleep and studying, and, not surprisingly, my grades suffered. Find a way to strike a balance between your academic and social calendars. Your future self will thank you.
Refuse to give in to senioritis. You may have already been accepted to college, but that doesn't mean you can slack off. Finish high school on a high note, not just because many colleges require you to submit a copy of your final transcript, but because you've worked hard for the past four years and you should be able to graduate with a sense of accomplishment and your head held high.
We are judged by the company we keep. Surround yourself with people who are going to help you succeed and find happiness in life, not drag you down. The older I get, the less patience I have for the drama that permeated my social life in high school. Plus, hanging out with not-so-great people can make others perceive you as a not-so-great-person. Life's too short to waste it on ne'er-do-wells.

You are not going to marry that person. It's inevitable. The first time you fall in love, you feel like you're destined to be together forever. I hate to burst your bubble, but you won't. I mean, you might, but that's a big "might." You're going to change so much during your time in college, and the person you are as a teenager isn't the person you'll be 10 years from now—or even one year from now. And the person you're dating is going to change too. But don't worry. You're going to meet some seriously amazing people in your future, and one day you'll look back and see that everything worked out the way it did for a reason.

Be more of a listener than a talker. As financier and philanthropist Bernard Baruch (for whom Baruch College is named) once said, "Most of the successful people I've known are the ones who do more listening than talking." Learn when to shut up and observe.
Be yourself, because shortly after you walk the stage at graduation, everything that seemed so important in high school isn't going to matter. At. All. "Fitting in" may seem like the most important thing in the world right now, but guess what: all those cliques and cool kids aren't going to exist anymore after you graduate. So learn to be true to yourself and let your freak flag fly, because once you get to college, no one is going to care about how bizarro your haircut was in 10th grade or the time you slipped and fell on an icy patch right in front of your crush because you're a total klutz. College is a clean slate.

Everything is going to be okay. It may not seem like it now, but life is going to get better. Whether you've had a great time in high school or a not-so-awesome time, things are only going to improve. When I look back on the past 13 years since I graduated (oh golly, I feel old . . . ), I see so much time that I spent worrying needlessly. I can't say that everything has been perfect, but everything always seems to work out as it should, and I'm happier and more confident than I've ever been before.
Do I ever miss being a teenager? Honestly? Not really. Maybe a few parts of it, like living rent-free and not having to worry about things like eye cream and income taxes. But overall, my post-high school years have been incredible. You have so much to look forward to! Which is why my last piece of advice is this: life goes by in a blink, so savor every single moment and strive to go to bed each night with the ability to say (to paraphrase Thoreau), "Today I lived deep and sucked all the marrow out of life."
Now go carpe the heck out of this diem!