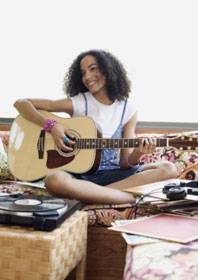 So, I guess you can't bring everything you'd like to college, but you can bring enough that will still make you feel more at home. Here are my top 10 things you should bring to college, other than the obvious essentials like toothpaste (gasp! You forgot?) and so on:
An instrument. If you play a musical instrument, bring it. I played my guitar every day after class and it relaxed me. Some dorms have a music practice room (sometimes with a piano), so take advantage of that!
Baggy clothes. For some, this may not be an issue, but whenever I'd get sick (or just exhausted), I would always slip into a comfortable robe or pajama shirt.
Pictures. You will make friends with your roommates and those around you who will love to hear about your life. Bring pictures to share and to remind you of home.
Old notes. If you didn't throw your high school notes out the window the moment you graduated, then it is smart to save them. For example, I kept my pre-calculus notes from high school, knowing I'd take a similar class in college. You'll refresh your memory, remember the lessons of your high school teacher, and be able to compare your knowledge to the new material you're learning.
Multiple bags. Keep at least one suitcase with you, a backpack for school, and another extra one. You never know what will come up: charity work, a leadership retreat, volunteering, a weekend getaway, etc.
Decorations. Now, I'm not just talking about pictures and posters. Bring holiday lights, lanterns (if you're allowed, of course), colorful rugs, funny signs, etc. Make your dorm room show your personality!
Pepper spray. Do I have pepper spray? Yes. Have I ever used it? No. But having it in my purse (or coat pocket) makes me feel incredibly safe and confident if I am going out alone or running an errand in the evening. (Though be aware that it is illegal in some states!)
Games. You need a break from hitting the books sometimes. Invite your friends to enjoy board games and card games. Rather than sitting in front of a TV, you'll actually make some laughs and connections with new people.
Printer. If you do not have a printer, I suggest getting one. However, if your school offers free printing, take advantage of that instead. My school, on the other hand, requires that we pay for printing, so having my own printer saved me a lot of money, and it's something I can keep beyond college.
Piggy bank. When using cash, save all of your change in a piggy bank (or jar). I did this each semester and got $10-15 from my coins: paid for some groceries!