You've seen the memes, the GraphJams, the (de)motivational posters: "blank, blank, and blank. Pick two." Maybe you've even seen the one below (or one like it).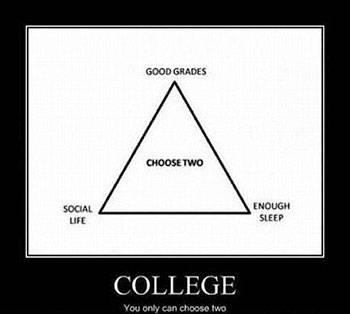 So, you may be wondering, is it true? Do all college students really fall into one of the following categories?
Well-rested, lonely overachievers
Exhausted, popular overachievers
Well-rested, popular underachievers
The short answer is "no." Of course there are variants. It's a joke, after all. But . . . as with so many jokes, there's a grain of truth to it. (Cats really are ridiculous and LOL-worthy.)
It is hard to find the right balance between classes/homework, social engagements, and, you know, sleeping (or other downtime). That's why it's important to master one skill in particular: time management. Sure, planning out your life weeks or even months in advance can be a little annoying. But it's also incredibly beneficial, knowing exactly what you need to do and when. It's a little like laying out tomorrow's outfit the night before. You can just wake up and throw on clothes instead of standing in front of your closet, half asleep, rummaging through your shirts until you eventually pick one that has a stain on it—a stain you don't notice until that cute guy/girl points it out to you in your intro to philosophy class. . . . The point is, it just makes your life easier.
Mastering time management is a long-term investment too, as it will become second nature, and you'll become less stressed and more accomplished over time. You'll know you just have to buckle down Wednesday night and finish Monday's presentation so you can hang out with your friends during the weekend. It also helps you avoid being blindsided by tests and projects, or even by social events (prone to forgetting birthdays? Not anymore!). Of course, it requires a healthy dose of self-discipline too.
So, how do you achieve this elusive balance? Start with a blank calendar and your class syllabi. Not only will you get a helpful sense of what to expect in the course material, but you should have dates for important tests and projects. Add any concrete dates to the calendar. Then think about other things going on in your life: Recurring meetings. Practices. Rehearsals. Shifts at your part-time job. Vacations and school breaks. Holidays and birthdays. You can even use a color code. (Type A kids, this is your forte.)
It shouldn't take too long to plan out the entire semester or year, and when you're done, you will have a comprehensive picture of what is expected from you—and what you should expect from yourself. You will be empowered to make the best decisions with your time. Maybe it means reading ahead or earmarking Saturday afternoon for a library session or even moving your workouts to a new time. Some weeks will be emptier than others; other weeks might be hell. Either way, they won't creep up on you. Along with time management, you'll also need that self-discipline and the ability to do the following . . .
Say yes
At the beginning of the school year, you'll have the chance to join countless campus activities, from intramural rugby teams to model UN to fraternities and sororities. Sign up for and attend the first meeting of every one that interests you; you'll be able to commit to your favorite(s) later.
College is nothing if not a hotbed for opportunity to meet people and do things that are fun, interesting, and quite possibly beneficial in leading the life you've always dreamed of. And when you have super time management and organization skills, you'll quickly determine what you do and don't have time for. This may mean postponing joining a certain activity until you have more time, but it's also about knowing how to prioritize, which sometimes means you need to . . .
Say no
But you don't just have to say "no" to the fun stuff. It's about maintaining balance, so feel free to take a night off from studying to hang out with your friends.
Sometimes, saying no means making compromises or even sacrifices, like not joining another extracurricular group because you have too much on your plate already or passing on a Sunday night party because you just have to finish an essay for Monday. That's where that pesky self-discipline thing comes in. But, as they say, every act of self-discipline is an act of self-love.
Know your priorities
Okay, you filled in your calendar and you're sticking to it. You're on top of your assignments, and you're able to do the extracurricular and social things that appeal to you. But what about things that don't appear on your schedule, like an impromptu midnight Halo 4 party in the common room . . .
You know what? Go to the Halo 4 party—unless it's the night before your grade-defining finals. This is about knowing how to prioritize, but you also need to learn to trust your instincts and rely on common sense. And don't forget, there will be other impromptu midnight Halo 4 parties, and if not, take it upon yourself to schedule one that works for you.
Of course, there will be days when you don't stick to the schedule. You may pull an all-nighter or two (but don't make it a habit). And that's okay. Just like sticking to a diet, off days happen. Just remember to get back into a more self-disciplined groove.
They say you can sleep when you're dead, and it's tempting to forgo rest in favor of more fun pursuits and better grades. But, really, how well are you going to do in your classes if you're constantly exhausted? It takes its toll!
So . . . Good grades. Social life. Enough sleep. You will encounter students who only "pick two." And they can enjoy their perfect GPAs, full social calendars, and refreshed, rested bodies. They can also lament their poor GPAs, empty social calendars, and frazzled, wiped-out bodies. But that doesn't have to be you.