High school is kind of like a crazy road trip. You're rolling down new roads in a run-down Jeep—or polished Mercedes if you're really, really lucky—with awesome people your age, all while finding out new things about yourself. And sometimes stopping at really cheesy roadside attractions...or was that just me?
Senior year, then, is the moment when you see the road sign for your final exit. Your mind is a whirl of questions: Is it over already? What's around that shady-looking corner? Can't I just stay on this road forever? And yet, despite all the uncertainty and anxiety, there is a lot to be excited about—because college is just another, bigger, better road trip. So buckle up and turn on your road trip playlist, because I'm going to explain how to make the last leg of your journey the best one ever.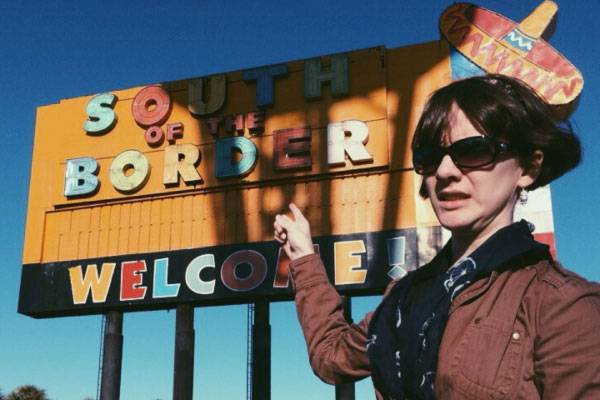 The author on yet another crazy adventure
Learn how to walk the senior year tightrope
There's a lot expected of you in your senior year. You need to balance college prep courses, a part-time job, a healthy social life, hours of homework, extracurricular activities, not to mention that show you've been dying to binge watch.
Now that you're down to your last year of high school, it might seem like there just isn't enough time to get it all done! Unfortunately, that's true—like any year in your life, it's only so long. However, as Brian Tracy said, "There is never enough time to do everything, but there is always enough time to do the most important thing." Trust me, that's wonderful news! By focusing on the most important things this year, you'll graduate with an impressive checklist and be able to feel great about yourself.
How do you discover your personal "most important thing" list? I recommend splitting it into three categories: school, life, and work.
For your school category, you'll want to prioritize attending classes, doing your homework, and preparing for tests. Don't let the Senior Year Slump be the boss of you!
For your life category, think about what kind of memories you want to carry with you to college, as well as what makes you feel relaxed and positive. Spend time with your family and friends, go on that spring break trip of your dreams, or have that binge-watching session. My recommended balance? Have at least one hour scheduled during your week for "you" time. That's when you unwind, binge-watch, go for a jog, and try not to think about school! Treat this relaxing time like a super-rich dessert. It's amazing, and totally worth having, but it's better in small portions. You don't want to fall into the procrastination trap.
For your work category, consider any current employment you have, as well as any plans for your career. Are you going to need extra pocket money for college? It might be a good idea to get a job. However, if you have a lot of challenging classes, consider taking minimal hours so you don't overwork yourself. (Good grades are worth way more in the long run than having spending money when you get to campus.) Looking to the future, would a summer internship help you discover if a profession is right for you? Maybe it's time to start applying.
Write down your "most importants" and make them your goals for this year. Most likely, your list—and your approach to it—will change as the year goes on. But that's okay! All you need to do is stay focused on what's really important, and remember what you're working towards: an awesome start for your adult life.
Related: Video: Setting Goals for the School Year
Get (or stay) involved
When the time comes for filling out college applications, résumés, and scholarship applications, a few extracurricular activities will work wonders. Not only do they show off your dedication and your awesome talents, they're a great way to meet people who might provide recommendations. Oh, and they're also really fun! If you've been involved in the past and still enjoy your activities, keep them up. If you didn't have extracurriculars over the past few years, don't worry. There's enough time for you to start now. See if there's a local group for something that makes you happy, whether it's volunteering at a school or playing soccer. And if you feel up to taking a leadership or administration role, go for it! Admission representatives, employers, and scholarship selection committees love seeing those skills.
Pave memory lane
Remember when I mentioned spending time with your family and friends? It's important, y'all. Senior year goes by fast, and the summer before college is a whirlwind! That dorky picnic with your best friend or the afternoon spent listening to your grandparents' stories will quickly become your go-to memory when freshman year rolls around. Not to be a downer, but there will be a time when your best friends won't be just a text away, and when you'll actually miss the way your dad musses your hair whenever you walk by. Now is your chance to enjoy the time you get to spend with them!
Dip your toes into college life before you arrive on campus
Finally, this may be the most important advice I have to give you: get to know your future home well before you roll onto campus. This is a massive transition time for you, and your prospective schools know that. They'll be ready to help you adjust by giving you ways to meet your fellow freshers! My school had an incoming class Facebook group where we could connect (and try to find our roomies), an Accepted Students Day, a Presidential Scholars Day, and—of course!—orientation. (Fun fact: because I attended my Presidential Scholars Day, I met my totally amazing roommate!) You can also check out potential hashtags for your incoming class or group chat apps like GroupMe. Knowing a few faces on campus can help your transition, and who knows? Some of those Twitter followers might be your new best friends!
Don't know where you want to attend yet? There are other ways you can begin to prepare for college. You can start digging through those college-prep blogs you see everywhere—and you clearly have a head start on that by reading this! High five for you. Also, if you know any current college students, consider asking them to give you advice over coffee. (They're college students, so they'll love any chance to get caffeine!)
Related: Accepted: How to Find Your Place on Your College Campus
With these tips, you'll be ready to take your senior year by storm. Remember, this leg of the road trip is what you make it—and, since you're already this far ahead, I have no doubt that you'll make it absolutely brilliant.
Need more help navigating the last year of high school? Check out Senior Year of High School: Our Best Survival Advice.