When you hear "summer camp," you might think of canoes and campfires, but there's a whole slew of unique options out there for students who want to grow their minds as well as their survival skills. If you have a love for a particular academic subject, there's probably a summer program out there for it. That's what Ramya Prabhakar found in the Yale Young Global Scholars (YYGS), a selective summer program for high school students. She was able to explore her interest in international affairs and learn a ton, all while surrounded by likeminded students, in the summer of 2014.
Here, Ramya shares a look at her typical day back then. And if it sounds like your jam, be sure to start researching your options now—because these camps are often selective and require an application process not unlike a college application!
7:45 a.m.—Wake up! I snooze my alarm a couple of times before finally rolling out of bed. I look outside my window at the beautiful green courtyard of Jonathan Edwards College. During the program, the YYGS kids are housed in Jonathan Edwards, one of Yale's 12 residential colleges. The college is fully equipped with dorms, bathrooms, dining hall, library, dance studio, movie theater, gym, game room, laundry facility, and so much more. Suites are composed of four singles and one double, with a common room in the middle.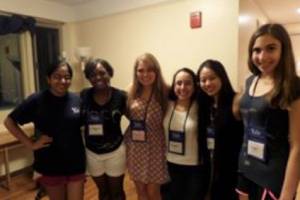 Me and my wonderful suitemates! Some of us are still in touch, and it's been over a year since Yale! That's the other really good thing about summer programs like these—you make friends that will last you a lifetime.
8:15 a.m.—Breakfast Showered and dressed, I meet up with my friends in front of the dining hall and we all head inside together. Yale's dining hall, like many college dining halls, is buffet style. It's stocked with plenty of cereal, fresh fruit, bagels, muffins, toast, and so much more, not to mention that staple of all college meals— ice cream.
9:00–10:45 a.m.—Lecture Today's morning lecture is given by Professor Harold Koh, Sterling Professor at Yale Law School and former Legal Advisor to the State Department under the Obama Administration. Professor Koh is even more engaging in person than he seems on paper. Insanely intelligent, refreshingly down-to-earth, and wildly funny, he enthralls his high school audience with war stories of his time in the Obama Administration and even shows us some Candid Camera–style shots of Hillary on Air Force One. When he finishes speaking, he gets a three-minute-long standing ovation before he is surrounded by enthusiastic students and peppered with questions.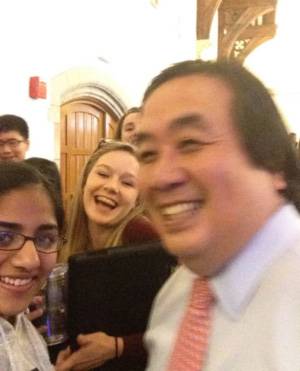 Despite the crowd, my friend Steph and I manage to get a selfie with Professor Koh!
11:00–11:45 a.m.—Discussion groups After every morning lecture, we split up into 15-person groups to discuss the talk and address any questions we might have had. We are also each in charge of coming up with at least two open-ended discussion questions for every lecture, and we send them to our moderator. My group's moderator is Eno, and she's pretty great; she's very good about letting everyone talk, and she contributes plenty of interesting, relevant information to our discussion. On this particular day, we somehow end up having a heated debate about nuclear disarmament, particularly in regards to Iran. But the best thing is that everyone makes their points without being disrespectful to other opinions. I love my discussion group!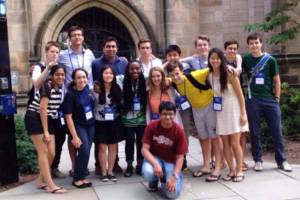 My amazing discussion group and our moderator, Eno
11:45 a.m.–1:00 p.m.—Lunch! We end our discussion to go to lunch, and I join my friends in the dining hall. Over burgers, chili, and pasta, we share stories of our discussion groups and rehash interesting points made by our peers. After a while, we move on to lighter topics, and we end up sharing funny stories from home over another helping of ice cream, of course.
1:15–3:15 p.m.—Career Talk Usually we have another lecture after lunch, but the YYGS staff decided to change it up a little today. Instead, we have a Career Talk today, given by an expert in the field of environmental law. Her talk was both interesting and engaging, and it opened my eyes to a new way of thinking. Up until that point, I had only thought about the law in terms of corporate legal work and criminal prosecution, but now I saw that a legal background could be used to fight for current public-interest issues such as environmental protection. I was truly inspired by her talk, and I am now considering a double major in Global Environmental Change and Sustainability at my school, Johns Hopkins.
3:15–5:15 p.m.—Seminar 4 The best part of YYGS (in my opinion) was not the high-profile lecturers or the residential life but rather the small, 20-person seminars about specific topics related to international affairs. The small size of the group was similar to college seminar classes; it allowed for a much more personalized learning style. This afternoon the lecture focused specifically on U.S. privacy law and policy. Our instructor facilitated a great debate about the balance between privacy and security that featured many insightful arguments from the students in the discussion.
5:45–7:00 p.m.—BBQ Dinner Today marked the official halfway point of our two weeks at Yale, so to celebrate, the staff threw all the students a barbeque dinner party in the courtyard of Jonathan Edwards College. It was a great chance to socialize with all the different people at Yale (and of course to have some wonderful food) and I really had a lot of fun!
My friends and I enjoying our halfway-point BBQ dinner

7:15–9:00 p.m.—Project groups Another very important component of the YYGS experience is the Capstone Project. Essentially, the capstone project is a mini version of what Global Affairs majors at Yale College complete at the end of their senior year—a collaborative policy proposal that focuses on a specific problem within a subtopic of international affairs. Our subtopic was international law, so our group worked on creating a policy proposal combating the problem of migrant worker abuse in Qatar. Hundreds of migrant workers are dying in the process of building soccer stadiums for the 2022 FIFA World Cup. Our group is creating a joint organization with FIFA and the International Labor Organization to monitor Qatar's treatment of their workers and to impose consequences on any breaches of international labor laws. Our group works well together, and we are making great progress!
9:00-9:30pm – Res Life Groups All 200 of us are split into groups of 15 and are each assigned a different residential life mentor. This group meeting is to discuss anything related to living in the dorms, roommate issues, or just places to hang out and talk. Today, our Res Life mentor took us all to Insomnia Cookies, a fantastic cookie chain that has a location in New Haven (right off campus). It was definitely the best triple chocolate chunk cookie I've ever eaten.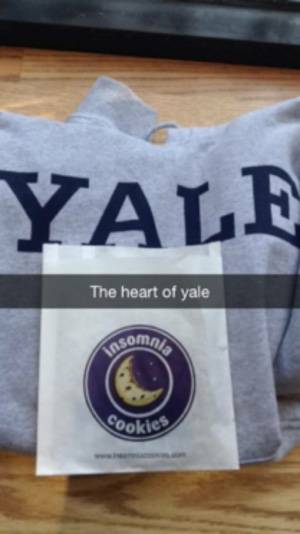 Literally
9:30 p.m.–12:00 a.m.—Free time After 9:30, we are free to hang out with friends, go out and explore New Haven, or just relax in the dorm. Our group chooses to spend time in "the buttery," which is a snack bar/game room/lounge in the basement. We play ping-pong for a little bit, do a load of laundry down the hall, and just sit in the buttery's famously comfortable couches as we wait for our clothes to dry. Eventually, someone brings a game of Apples to Apples, which we play until the RAs make us go to bed.
My two weeks at Yale were some of the best of my life. I made friends that I'm still in touch with today, I learned so much from both my professors and my peers, and I had the opportunity to hear so many remarkable stories from the people around me. I would definitely recommend doing a summer program such as this one if at all possible!