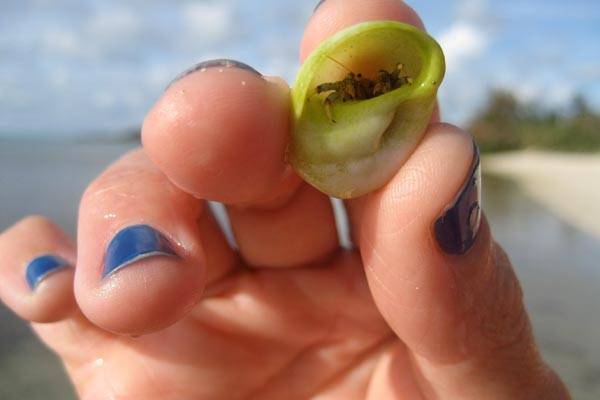 Hermit crabs do this neat evolutionary thing, where as they grow, they seek out bigger shells that fit them better. What does this have to do with summer camps? They're both all about finding the right fit! Stick with us . . .
Crabs are known for their hard shells and convenient hiding places. Well, so are teenagers.
As soon as school is out, the adolescents scuttle into their natural bedroom habitat, pinching anyone who even mentions school. College seems like the menacing storm out at sea, and teenagers know they'll be defenseless without their shell. But they're in the middle of a huge transition. How do they find a new shell? How to you find your place in high school and after? Summer programs can help.
The search for the right shell, as any crab would tell you, takes some consideration. Hermit crabs must consider the dimensions and weight of the shell. Similarly, students should consider which summer program is the right fit for them. They should think about their interests, priorities, and availability in choosing a summer camp or program. For example, many summer camps are leisure activity oriented and more lenient with family vacations. Others summer programs, like internships, require attendance, diligence, and a real interest in the work to be meaningful.
Crabs thrive with members of their own species. Likewise, an integral part of summer programs is meeting new friends with similar interests. As you develop skills, you can share those skills with your new peers and learn from each other. Just remember that peer pressure can have sharp claws, so it is important to stick to your guns and do your own thing. When South Coast Today interviewed a member of my writing camp in 2014, he said, "You can write alone but you can't share alone." Camaraderie of a camp provides experiences a bedroom hideaway can't.
A camp in the summer also opens doors in the fall. Connections may extend beyond your peers as well. Meeting teachers and administrators can help in your college search. A strong bond with a teacher can also help when colleges and employers request recommendations. Exchanging phone numbers with friends or e-mails with mentors can help you stay in contact after the program's over.
Like hermit crabs compete for shells, some programs have limited space, and the best time to hunt for a program is the fall/winter before you want to go. If time is a limited resource, it helps to be proactive. Begin your search while school is still in session, and be aware of application due dates. School bulletin boards, local libraries, and websites (like CollegeXpress's summer program search) are good places to start. Teachers are usually happy to help too. For instance, my English teacher recommended the creative writing camp I attended in June. Since I hadn't known about it earlier, I was only able to commit to one week. Next summer, though, I will be prepared. The early crab gets the shell!
Don't allow the thought of college to be an invasive species on your beach. Finding summer programs to fit your passion and friends to share your shell, protect you from the crabbiness of an unprepared teen.