Tuition: $0. Room and board: $0. The best summer of your life: Priceless
So you've started researching precollege summer programs and think you've found the perfect program for you. It suits your potential major or career interests, or lets you preview life at your dream college, and it looks like tons of fun, too.
Sounds great, right?
Then you click on the tuition and fees section of the program's web site and your heart sinks: $3,000?! You don't have that kind of cash and can't drop that burden on your parents with college just around the corner. Luckily we've got the perfect solution: sell one of your organs on the black market. You don't really need both kidneys anyways, do you?
Just kidding! Turns out there are dozens of tuition-free summer programs out there. And these aren't like that lame free prize at the bottom of your Cracker Jacks--they're actually some of the most highly regarded summer programs around.
Humanities
Offered on various college campuses each summer, the six-week Telluride Association Summer Program brings rising seniors to attend daily three-hour seminars led by college professors. Guest speakers, readings, and writing assignments supplement lectures. Financial aid may cover travel costs, and TASP even offers stipends of up to $500 to replace summer work earnings.
Science & Engineering
Ready to be blinded with free science camps? Put your safety goggles on, kids. Cal Tech is a great school, so check out their Young Engineering and Science Scholars program. MIT more your speed? It hosts the Research Science Institute.
Multicultural programs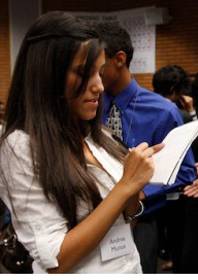 Other summer programs confront the lack of diversity in certain fields by offering camps to underrepresented minority groups. J Camp offers intensive journalism training to a multicultural group of high school students. Admission is very competitive: only around 10% of applicants gain acceptance to the program each year.
It's also a good idea to research if your state offers a Governor's School program for in-state residents. Applications are usually distributed to guidance counselors in the fall, and programs may require you to be nominated by your school's principal. Governor's school programs cover a wide variety of subjects, but because funding is provided by state governments, some programs have been eliminated due to budget crises.
As you would imagine, admission to most of the free summer programs mentioned above is very selective, and applicants must submit test scores, essays, and teacher recommendations. Deadlines come up as early as December or January, so get a head start on applications and give teachers plenty of time to write recommendations. But if you can get in, you'll learn a lot, meet great people, and enhance your college application without burning a hole in your pocket.
Photo: Student Andrea Munoz interviews a source during the 2010 J Camp session at Loyola Marymount University. Photo courtesy Timmy Huynh/J-Camp Live