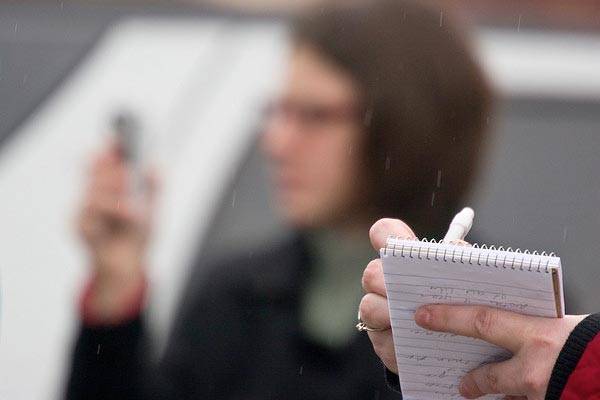 Many people like watching the news, but creating the news is a completely different story. If you're interested in learning how to use different types of equipment to tell many different stories, going to journalism camp may be the perfect choice for you.
Often held at a college or university, each journalism summer program is different in the way they approach teaching attendees how to improve their journalism skills. I have been to two different journalism camps, and they were quite different from the other. Here are a few common questions about journalism camp and a little bit more about my experience at them.
What is journalism camp like?
The first camp I went to was more geared toward news "staffs," so there were a lot of people from different high schools in the state staying the week with their school's yearbook or newspaper staffs. The camp was set up so you spend time with the staff to plan the next year's newspaper/yearbook.
This camp was mixed with different paths that you could take for any position in a news group; there was a writing path, a photography path, and an InDesign path, to name a few. Each of the different paths came together at the end of the day before dinner to discuss the day's work.
You could also go to convention-type sessions to improve your skills. These were usually 30-minute classes that focused on a narrow topic. For example, if you are a really good writer but want to learn how to take better pictures, you could go to a photography session. Session topics covered everything from journalistic writing skills to leadership and staff improvement sessions.
The second camp that I attended was more focused on those journalism skills. It showed you how tell stories using new media technology. At the end of the camp we made three original pieces and did a mock news broadcast. Each piece used completely different equipment and software to edit. We had to tell stories by making videos and podcasts, and also write a story on a topic we decided that day.
What do you need to pack for journalism camp?
Obviously if you are spending the week at a camp you will need clothes and personal hygiene products, but here are some lesser-known things that campers should consider bringing:
Notebooks
Pens/pencils
Recording device
Camera
Laptop
While some camps may supply all or most of this equipment, it may be easier for you to use your own (if you are allowed to, of course).
What else do you do at journalism camp?
Many of these programs give attendees some time for fun activities so they can bond with the other campers. Some sightsee and tour the campus, while others hold dances and dorm-wide pizza parties. Each camp is different and will give you a schedule of the week's activities.
Is journalism camp for me?
If you have a passion for the news and storytelling, journalism camps give you the chance to sharpen your skills—not to mention give you an edge over other competitors in the college application process.