Do the fashion victims in your school turn to you for advice? Do you dream of seeing your own designs dominate the runways, red carpets, and retail stores? Then you might be tailor-made for a career in fashion design. It's never too early to get some hands-on experience and learn about the industry, so it's a good thing precollege summer programs in fashion design are so hot right now.
Fierce competition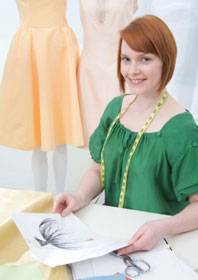 A few well-known designers broke into the industry with little to no formal training: Ralph Lauren launched his Polo empire by selling a few tie designs to Bloomingdale's, and Hedi Slimane studied photography before pioneering slim suits and skinny jeans at Christian Dior. But the traditional career path still begins with a two- or four-year degree from a fashion design program that will help you score an internship with that designer whose clothes you can only afford to read about in magazines.
The competition for spots at the most prestigious schools is very selective, and admission officers treasure applicants who already demonstrate a knack for creative design. Luckily, a few well-known fashion programs open their campuses to high school students over the summer. Start building your portfolio (and earn college credit) at the Pratt Institute PreCollege Summer Program in Brooklyn. Or learn about design, construction, and styling at the Academy of Art University Pre-College Summer Art Experience in San Francisco.
Idyllwild Arts Academy, an arts-focused boarding school in California, also offers fashion design courses for students of varying ability levels as part of its summer program.
Euro-chic style
Sometimes the best education is inspiration, and seeing the way people dress in other cities or countries can change the way you think about clothing. You don't need to wait until college to study abroad and take in Parisian high couture or that seemingly effortless Italian style.
The Summer Study in Paris program offers a fashion course tracking the trendsetting French fashion designers through visits to museums, exhibitions, and industry hot spots.
The Fashion in Italy Summer Institute at Marist College introduces students to color theory, silhouette and proportion, drawing the fashion figure, and rendering texture and pattern—featuring both hand sketching and computer assisted design.
The business of fashion
From negotiating contracts to selecting factories and setting prices, you can't afford to be casual about the business side of fashion. More and more design schools are incorporating business and economics courses. Two of the most recognized menswear designers of the past few years actually came from a business background: Thom Browne majored in economics at the University of Notre Dame, and Michael Bastian's college days studying marketing at Babson College inspired his new take on traditional preppy styles.
The undergraduate program at the Laboratory Institute of Merchandising in New York City focuses on the business aspects of fashion, and LIM's precollege Summer Fashion Lab covers marketing, fashion buying, visual merchandising, styling, photography, fashion show production, and more.
In addition to visual arts classes that hone your eye for color and pattern, try to add business or economics classes to your high school curriculum. We also recommended a few summer business programs for precollege students a while back—just don't let your teacher catch you browsing style blogs on your phone when he's lecturing about supply and demand.