Ever wonder where all the amazing precollege summer program information found on SummerProgramSearch.com comes from? The website is the online companion to the Guide to Summer Programs, a comprehensive print directory of summer camps and programs for kids and teens published by Porter Sargent Handbooks--and it's back with a newly updated edition for 2012-2013.
In fact, parents and educators have been turning to the print Guide for help finding enriching summer opportunities long before Al Gore invented the Internet and Steve Jobs unveiled the iPhone you're probably reading this on.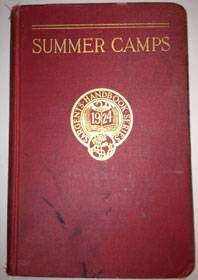 Now in its 33rd edition, the biennial Guide traces its origin to 1915, when Porter Sargent's Handbook of Private Schools included a summer camp section. The popularity of this section led to the 1924 publication of A Handbook of Summer Camps (the book has assumed various titles since its first publication). I dug out a dusty copy of the 1924 book from our storage room, and examining its contents sheds some light on the evolution of summer opportunities in the nearly 90 years since its publication.
The first summer camps handbook described tutoring camps, canoeing camps, athletic camps, religious camps, cruising camps, and pack train camps--all of which can still be found in the 2012-2013 Guide. Academic programs are no longer limited to remedial tutoring, as students choose from a variety of college-level courses and specialized programs conducted by boarding schools, colleges, and universities. The current volume also features chapters listing special-needs camps, paid internships, a wide selection of special-interest programs, and overseas travel tours (presumably made easier by innovations in air travel).
A special essay in the first edition described the importance of dramatics in summer camps, which usually included voice training, biblical stories, historical plays, and, um, "Indian pageants." Drama still plays a significant role in many traditional recreational camps today, but the new Guide's music and arts chapter also describes rigorous pre-professional theater programs--visited both by young aspiring actors and Hollywood casting agents looking for the next film or television star.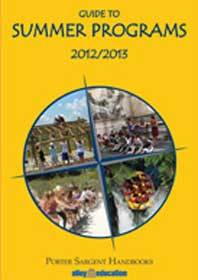 A section on the educational future of summer camps considers camps to be "one of America's three most significant contributions to education." That seems prescient considering the popularity of academic summer programs today--and college admission officers who treasure applications listing enriching and interesting summer activities.
The 2012-2013 Guide to Summer Programs includes more than 1,600 program listings featuring even more details than those found on SummerProgramSearch.com, along with handy lists of tuition-free camps, science research opportunities, advanced courses for gifted middle school children, and programs with the most selective admission. It's available in both sturdy hard cover and soft cover versions.