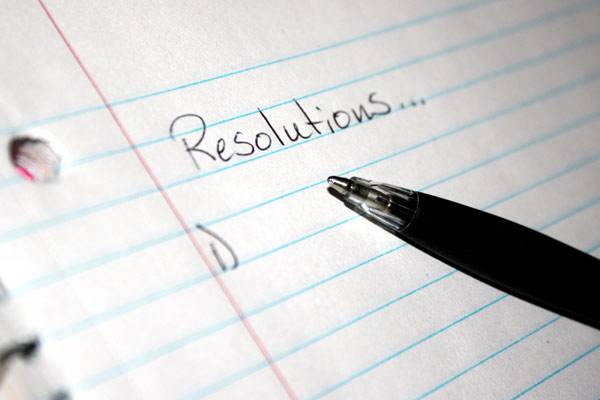 Ah, January! 'Tis the season to start fresh, to start fashioning a great new "you." You got it—I'm talking about that annual rite of winter, the New Year's resolution. After weeks of holiday parties and celebratory family feasts, many of us are not thrilled about the state of our waistlines, so we promise ourselves that we'll step up our exercising routine, go on a diet, or both.
The trouble is, most of us lose our resolve pretty quickly. Remember that stationary bike that your parents bought themselves last Christmas? No one is riding it a year later, but it sure is coming in handy as an extra clothes rack for Mom and Dad. How about that gym membership at the local gym that you signed up for last year? That was a great thing—until the novelty wore off around Valentine's Day. Suddenly, working out became just another undone entry on your to-do list. I could go on (how about that boomerang diet that your older sister went on a couple of years back? Ten pounds off, 15 pounds back on), but you get the idea.
Why not resolve to do something that will really make you feel good about yourself? Spend part of next summer engaged in a community service summer program, and you just might have your most memorable summer yet—while also helping out someone in need. Since the demand for service is so great, you'll have many choices when you start your summer search.
Another way to get in shape
Want a way to combine that exercise you know that you need with service work? How about registering with 360° Student Travel? Their community service programs feature six to eight hours of daily physical labor. Global Works is another active program, one that involves the construction of community centers and playgrounds, among other pursuits.
Spreading world peace
Looking to make a difference in an all-too-violent world? Sign up with Volunteers for Peace, where you'll choose from 2,500 program options in roughly 90 countries (including the United States). Perhaps you'd like to make a difference in a developing country: Circle Pines Center Cooperative Summer Camp takes an ecological tact during a session that emphasizes peace, cooperation, and community building. During six- and eight-week sessions, participants in Amigos de las Americas live with host families while working in urban areas or underserved semi-urban neighborhoods in one of six Latin American countries.
Service can be a real adventure
Summer programs can be a great way to pursue a couple of different interests in one session. Campers enrolled in High Mountain Institute High Peaks Adventure devote two full days to service activities while receiving wilderness instruction on one of central Colorado's 14,000-foot peaks. Similarly, wilderness pursuits abound in The Mountain Workshop, where adventurous sorts can raft, backpack, canoe, kayak, go mountain biking, go rock climbing, and more at various locations in Quebec and the eastern United States.
Take the lead down South
Birmingham-Southern College Student Leaders in Service puts a twist on summer leadership programs, as rising high school seniors develop their leadership styles throughout the Birmingham area while working with children, the working poor, and others in need.
You can even learn a new language . . .
Hey, you don't even have to choose between language study and community service—you can combine the two. Receive formal language instruction through The Road Less Traveled while performing community service and engaging in adventure activities in Costa Rica, Panama, Ecuador, Peru, or Guatemala. Students who've already studied Spanish for at least one year may further develop their language skills during one of Global Routes' sessions. Participants also immerse themselves in the daily life and rituals of the host country.
Sail into uncharted waters
Sail Caribbean shows us how creatively summer sessions can integrate community service into their programming: although the program focuses on sailing, racing, and seamanship, students in all Sail Caribbean sessions may undertake community service projects of five to 30 hours' duration.
Don't you think this may be the year to make a New Year's resolution that will really change your life? If so, why not set your sights on a summer community service program?
(Oh, and don't feel bad about skipping the gym pledge this year—you can always put that resolution off until March, when there will surely be plenty more elbow room at the gym.)