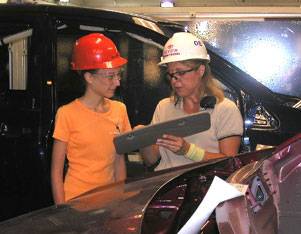 Was it hot enough for you this past summer? I'm guessing so—especially if you live in the Midwest. The United States endured its hottest July on record, and we're on pace to set a new calendar year record in 2012. If the heat isn't enough, how about the current extreme drought conditions? The drought of 2012 is the country's worst in more than 50 years, according to the National Climatic Data Center, with numbers challenging those recorded during the Dust Bowl.
We could put together a top 10 list of recent extreme weather occurrences around the world, but you probably get the idea. It makes you think that all those scientists who've been warning us about climate change and its consequences may be on to something, doesn't it?
Extreme opportunities
If all of this extreme weather has you a bit down, don't despair. More and more, it looks as though science—not political action—will be the key to dealing with our changing climate. New technologies and cleaner, more efficient energy sources await discovery. If you have the interest and the ability, a career in science just may make you part of the solution in the years ahead. Get a head start by taking part in a climate change study as part of one of the Earthwatch Teen Teams. Or take part in the project at the Hotchkiss School Summer Environmental Science Program that involves global climate change modeling: a great way to get a handle on the scope of the problem . . . and start to think about solutions. Or how about attending the Davidson July Experience and signing up for the course on Climate Change and Energy Choices? It doesn't get much more topical than that!
Innovation to the rescue!
One of the great things about science is this: technology and scientific innovation are often the keys to progress. While climate change was the launching point for my discussion, you may find your inspiration and your passion in any number of scientific fields. Why not take the initiative and hone your science skills over the summer in a challenging summer program?
Interested in immersing yourself in the challenges of marine science? At the Acadia Institute of Oceanography Marine Science Camp, your activities will range from offshore dredging for invertebrates to conducting whale and seal counts. If you're looking to add travel to a desirable locale (in this case, the Bahamas) while you work, take a look at the Shedd Aquarium High School Marine Biology Summer Program, where you'll spend six days living on a research vessel off the coast of Bimini.
The right prescription
The field of medicine is perfect for a bright student looking to make a difference. The University of Michigan Medical School Summer Science Academy gives rising high school juniors and seniors from underprivileged backgrounds the opportunity to preview medical school and college life. Similarly, the University of Massachusetts Medical School High School Health Careers Program enrolls high school upperclassmen from racial backgrounds that lack representation in medical professions, teaching them about various health care professions and biomedical and biotechnology careers.
Engineering a productive summer
Engineering is a great way to show off your science chops—and make yourself highly marketable when the job search beckons. If you're up to the challenge, you can hardly choose a better spot to study over the summer than the Engineering Summer Exploration Program at Rensselaer Polytechnic Institute's Summer@Rensselaer.
Maybe the thought of discovering something new and exciting while engaging in scientific research appeals to you. If so, check out the University of Chicago Research in the Biological Sciences program, where you'll join other high school students in undergraduate-level laboratory research.
The need for innovation and excellence in science may well be at an all-time high. Luckily, the programs to help you scale these heights are more plentiful than ever. Take a closer look at some of these summer science programs soon—and you may make a real difference in all of our lives someday. What could be better than that?