You know springtime is here at last when the Kentucky Derby comes around each May. Whether you care about horseracing or not, there's nothing like the pomp and circumstance of the Derby. Churchill Downs is a sight to behold on a glorious spring day: the green of the infield lawn, the dress of the nattily attired spectators (including those spectacular hats), and, especially, the majestic horses. The procession of horses onto the grounds preceding the race is an annual reminder of just how stately and gorgeous these animals are.
If you already have a love of horses—or if you're just intrigued by them and want to learn how to ride—rest assured that summer programs focusing on recreational riding and equestrianism abound.
Equestrian programs
Girls of all ability levels work on hunting, jumping, equitation, dressage, and combined training at the Stoneleigh-Burnham School Bonnie Castle Riding Camp. Equine studies are also part of this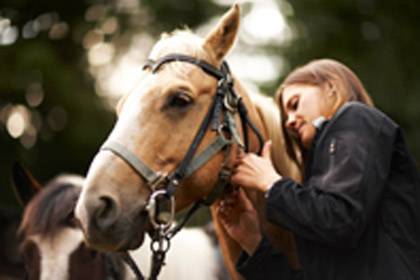 two-week program.
With sessions ranging from one to 10 weeks, International Riding Camp features three hours of daily riding, with a focus on hunt-seat equitation, showing, polo, and cross-country jumping. Girls have access to cross-country trails, a hunt course, a dressage ring, a stadium jumping ring, and an indoor arena.
Combine horsemanship with a scenic stay along the Little River in the Blue Ridge Mountains at Camp Carysbrook Equestrian Program. With an emphasis on English riding, Carysbrook conducts daily mounted lessons, trail rides, jumping, and swimming on horseback, and girls also learn about equine first aid. Riders are organized by skill level, not age.
Friendship Equestrian Camp accommodates novice and experienced riders alike. While beginners learn basic riding skills under the guidance of instructors and older campers, veteran riders work on the finer points of equitation. A select group of accomplished equestrians ride with a show team that trains, studies, works, and lives together.
A New Hampshire farm provides the setting for Pony Farm. This hunt-seat riding camp offers mounted instruction, stable management, trail rides, and the opportunity for girls to take part in a horse show.
Down in Texas, Pinebrook Farms Horsemanship Camp conducts English and Western riding lessons, horse shows, horsemanship instruction, vaulting, and trail rides. Experienced riders have advanced horsemanship and riding opportunities.
Riding programs
If you're more interested in casual riding camps, you have plenty of choices. Located on a 360-acre horse farm, Road's End Farm Horsemanship Camp teaches English pleasure riding and horse care each day. Noncompetitive riding takes place on three riding rings and 20 miles of bridle paths. Girls also engage in various farm activities, daily lake swimming, and weekly canoeing trips on the Connecticut River.
Male and female riders looking for a ranch experience may want to consider Jameson Ranch Camp. In addition to receiving lessons in Western and bareback riding, trail riding, and recreational riding, campers help produce some of their food, take care of farm animals, and share assorted tasks at the self-sufficient mountain ranch. Experienced riders may even try their hand at cattle herding.
A Michigan dude ranch is the setting for Black River Farm and Ranch Summer Horse Ranch. Instructors address the basics of walking, trotting, cantering, and horse care during sessions that also include advanced saddle, bareback, drill team, Western games, and vaulting.
Also conducted in the Midwest, Circle R Ranch focuses on basic riding skills for a coeducational enrollment. Campers learn to groom, saddle, and bridle a horse on a working ranch. Additional activities are trail rides, overnights, and a horse show.
Perhaps you'd like to embark on half- or full-day rides—or even longer trips lasting three to five days. Well, you can do just that in Big Sky Country. If so, head off to Wyoming's Teton Valley Ranch Camp. The range of activities during the four-week program helps boys and girls improve their camping and outdoor skills.
If you'd like to cross over the border and enjoy the scenery in Alberta, Canada, check out Bates Bar J Ranch. There, you'll combine riding with horse grooming, feeding, and general care. Hiking and wilderness survival is also part of the weeklong session.
Spring is in full bloom, and there's no shortage of equestrian events on the horizon! Let some of the most anticipated events of the year inspire you to try your luck with the horses in a summer riding or equestrian program.