The number of international students studying at U.S. colleges and universities reached an all-time high of 723,277 during the 2010-2011 academic year, according to the Institute of International Education. For students who aren't ready to spend four years overseas, summer programs for high school students offer a short-term preview of life in the United States while honing their English skills, sampling potential majors and careers, and meeting other international students.
Boarding school programs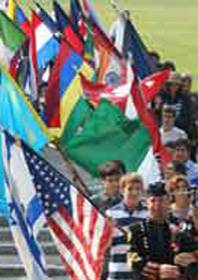 Many U.S. boarding schools count on international students for a significant percentage of their student bodies. Students from overseas may enroll in standard summer session courses or specialized programs offering ESL instruction and activities designed to help students acclimate to life in the United States.
Located about an hour from Boston, the Cushing Academy Summer Session offers a five-week ESL course to students entering grades 9-12. The immersion program features small class sizes and experienced ESL teachers--international students make up 25% of Cushing's student body.* Students prepare for the TOEFL or TOEFL iBT and practice language skills in arts and sports activities and dorm life with American students.
Nearly 50%** of students attending Phillips Academy's Summer Session in 2011 came from another country. A general ESL course is complemented by seminars focusing on journalism, multimedia, TOEFL prep, speaking, analytical skills, and essay writing for ESL students.
College and university programs
Students experience life on an Ivy League campus at Brown University's Pre-College Intensive English Language Program. The program combines language study with challenging liberal arts courses. Electives focus on English for business, TOEFL prep, and theater study.
Young musicians should check out the Berklee Summer Performance Program, where international students from more than 70 countries accounted for 27%** of 2011 attendees. The five-week program offers tracks in jazz, pop/rock, funk/fusion, and pop/R&B vocals.
Students who are already proficient in English can choose from a wide range of precollege summer programs offering advanced courses, career previews, and even college credit.
Applications, visas, and other resources
Summer program applications often require TOEFL scores (even for programs offering ESL) and may set earlier application deadlines or higher application fees for international students. Financial aid, if offered, may be limited and distributed on a rolling basis.
Visa requirements also vary from program to program. Because summer programs are shorter than 90 days, participants may attend without a full visa under the Visa Waiver program available to 36 countries. Students must meet minimum requirements and possess a passport valid for six months after their stay ends.
Other programs require an F1 student visa, so make sure to give yourself plenty of time to complete the application process.
Find more summer opportunities for international students on Summer Program Search to (select ESL under Academic Specialized), and for more advice on studying in the U.S., check out Yumi Araki's international students blog on CollegeXpress.
* Data taken from the 2011-2012 edition of The Handbook of Private Schools
** Data taken from the 2012-2013 edition of the Guide to Summer Programs