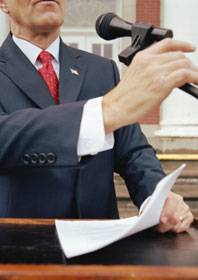 All it takes is a quick spin around the radio dial, a little time on Facebook checking out friends' links to politically provocative articles, or a glance at trending topics on Twitter to realize that ours is a politically passionate country.
This is doubly true during a presidential election year. Think about the media firestorm that resulted when Clint Eastwood, during the Republican National Convention, spoke to an invisible (and imaginary) President Obama. Or the off-the-charts level of ebullience or loathing (depending upon one's political persuasion) inspired by President Clinton's lengthy address during the Democratic National Convention. In both instances, public speaking fired up emotions in partisans of all political stripes.
During the seemingly endless presidential campaign, Republican nominee Mitt Romney has traversed the country, speaking to crowds large and small every step of the way. Even though his own party nomination has never been in doubt, President Obama has long been in campaign mode, fitting in as much time on the stump as his schedule will permit. If you hope to share your message with the people on the biggest of national stages, you sure better have some stellar public-speaking skills.
Learn to win the war of words
If public speaking is no small challenge, how about debate? As the presidential campaign moves toward its conclusion, one-on-one debates between the presidential and vice-presidential hopefuls are added to the mix. Talk about a boost in the degree of difficulty! Just laying your views out in a coherent and compelling way is no longer your only objective—now you also have to outwit your opponent and control the direction of the discussion. Oh, and if you're planning to cut federal funding for PBS when you become President, make sure to remind the voters that you still love Big Bird.
There's no doubt that some people are naturally better at public speaking and argumentation than others. No matter whether you're a novice or a pro when it comes to oratory, however, summer programs can give you a huge helping hand and set you on the path to great things.
A politically correct move
Those with political aspirations may want to take a look at the Stanford National Forensic Institute. Not only is it held at one of the nation's top universities, but it also features separate sessions devoted to Lincoln-Douglas debate, parliamentary debate, policy debate, and public forum debate. Another renowned university, Northwestern, conducts a National High School Institute debate program that combines classes, workshops, field trips, projects, and lectures in rigorous four- and five-week sessions.
Another challenging college program, this one in the Southwest, takes place each summer at the University of New Mexico: CDE National Debate Institute Summer Camps. While tackling three different topics, you'll benefit from professionally critiqued practice rounds. In the Midwest, Michigan Debate Institutes place a particular emphasis on national policy debate areas—something that will sure come in handy when you're the next great hope for the Democrats or Republicans (or Independents) in 20 years or so. Upstate at Michigan State University, Spartan Debate Institutes include first-come, first served two- and three-week sessions and a selective four-week program that culminates in a nine-day strategy forum.
How about heading to the Pacific Northwest to attend Whitman National Debate Institute? There, you'll enroll in a two- or three-week policy or Lincoln-Douglas debate camp, or in a weeklong public forum debate session. Lectures on domestic and international policy will give you additional preparation for a future career in politics.
The female perspective
Are you a young woman envisioning a future in public life—or just looking to bolster your persuasive or public-speaking skills? Stoneleigh-Burnham School is the perfect spot for 11- to 17-year-old girls with interests in these areas. A Voice of Her Own covers interpretive reading, dramatic interpretation, impromptu speaking, persuasive speaking, and various forms of debate and allows students to make presentations to the assembled camp during the evening. Sounds like good practice for the campaign trail to me.
The media attention and the barrage of political ads may die down soon after Election Day this fall, but rest assured that competition will always be fierce in the political arena. Help put yourself above the crowd by finding your voice—literally—at one of these challenging summer programs.