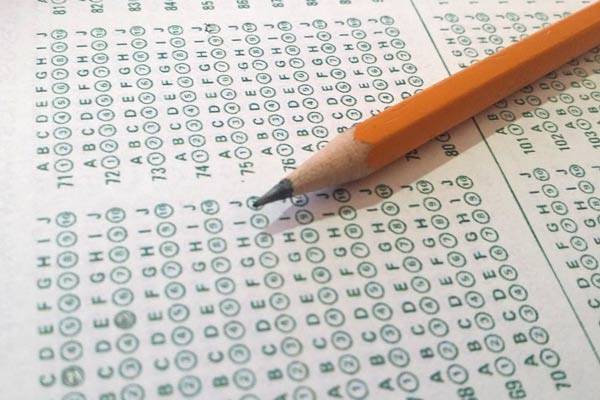 It's generally a given that most students spend several months in advance prepping for (or just simply stressing over) standardized tests such as the SAT. Oftentimes the most terrifying aspect of the test is just taking it for the first time when you're still a bit unfamiliar with the type of questions or time limitations. But despite any first-time nerves, gaining the test-taking experience as well as getting at least one set of scores under your belt can definitely make your second time around much more bearable.
After devising a study plan that spanned almost six months in advance, I finally took the SAT for the first time in November. Although I went into the test with plenty of expectations, what I gained from seeing and answering actual test questions within the allotted time was definitely a beneficial learning experience that will make my second go at the test much easier.
Aside from gaining the overall experience of taking a standardized college entrance exam for the first time, here are some of the more specific lessons and pieces of advice that I learned from my first time taking the SAT.
Writing: one 25-minute essay section; one 25-minute multiple-choice section; and one 10-minute multiple-choice section
Despite writing several practice essays, I didn't fully understand the impact of the 25-minute time limit until I actually wrote a real essay on test day. The time went by much faster than expected, and although I was able to finish in time with a four-paragraph essay, I had to pack in a conclusion at the last minute and barely had any time to edit the rest. My first piece of evidence in the second paragraph was strong, but the second piece of evidence in the third paragraph ended up a little sloppy due to a lack of time. Repetitive practice definitely helps with cutting down on time, but ultimately you only have 25 minutes to plan and write your essay, so it's basically a given that you're going to be forced to rush and only produce the bare minimum. Honestly, it's much better to just get good, solid information on the paper (even if it isn't as elaborate or sophisticated as you would like it to sound) rather than ending up not fully answering the prompt because you spent too much time trying to perfect one paragraph or piece of evidence.
Regarding the essay prompt itself, I also learned that the quote included above the actual prompt is fairly irrelevant. It just serves as an example of how the prompt can apply to a real-life situation, but ultimately all you need to focus on is the prompt alone. If you're pressed for time, it would probably better suit you to simply comprehend the prompt and start planning out your essay rather than getting caught up or confused by a quote that really doesn't serve much purpose at all.
As far as the multiple-choice portion of the Writing section, I don't see the time limit being much of a problem for most people, since the majority of questions can be answered in mere seconds. In my opinion, this section is one of the easiest parts of the entire SAT and definitely the easiest to study for if you're struggling with it. Many of the questions are similar, and once you grasp the general grammar rules that are commonly tested, you should find that the questions aren't too challenging and time shouldn't be a major concern.
Critical Reading: two 25-minute multiple-choice sections and one 20-minute multiple-choice section
There were only a couple of times during the three Reading portions where I felt a bit pressed for time due to spending too long trying to comprehend a passage or answer a question. Overall, however, time wasn't a huge issue the Reading section. Even if you do find yourself running out of time, it's absolutely okay to skip the harder questions in order to make sure you answer all of the simple ones. Another helpful hint to avoid running out of time is to read the passages strategically and to read the questions ahead of time. Try reading the passages in chunks—skimming over the middle paragraphs and focusing mainly on the first and last paragraphs, which typically reveal the most information. Again, it's never a bad idea to try reading the questions beforehand so you know exactly what you need to pay attention to in the passage. This way you ultimately save time by skimming over the fairly irrelevant text and highlighting the parts that are important.
A major key to the Reading section—for both time and accuracy purposes—is to try to stay as focused as possible, especially if this section appears later on in the test when you're already starting to lose steam. I never used to score that well on the Reading portion of any practice test that I took, but after taking the real SAT I realized I never scored well before because I never really made an effort to concentrate. On the actual test day, however, I stayed focused until the end and never let my mind get distracted (even on the most boring of passages), which really helped ensure that minor mistakes weren't made just because I wasn't paying proper attention to what the passage meant or what the question were asking.
Math: one 25-minute multiple-choice and student-produced response section; one 25-minute multiple-choice section; and one 20-minute multiple-choice section.
Personally, Math has always been my worst section, but on the actual SAT it ended up going much better than I had expected. I still had to skip a few of the harder questions—especially on the student-produced response part—but I ultimately had enough time on all of the sections to go back and double check my answers so that I felt confident in all of my work.
Math was a lot easier than I had initially anticipated, and definitely easier than many of the practice tests I had taken prior to the test. Although the SAT does consist of hard math questions, there are definitely plenty of easier questions that help balance out the more challenging ones. The only section I really struggled with was the student-produced response, since those questions typically tend to come with the most arithmetic (and there isn't any room for guessing), but it also may have just been due to the fact that I hadn't practiced as many of those questions as I would have liked to prior to taking the test.
Even if you find yourself struggling with the Math section on most practice tests like I did, you'd be surprised by how different the questions on the actual test may end up being. Math is generally an easy section to study and practice for—all it really requires is repetition and correcting your mistakes. Also, as a general rule, make sure you stay completely focused on this section and verify that all of your calculations and numbers are correct, since it's very easy to mix up answers if you put something into your calculator incorrectly. If you're still encountering trouble in these sections, my best recommendation would be to just focus solely on the easiest questions and work on being completely confident that those are correct. The test questions are ordered from easiest to hardest in each section. So even if you have to skip the last few questions in one section, it's better to do that and know that you did well on the earlier questions rather than make silly mistakes because you're rushing to make it through the whole section.
Everyone's way of preparing for a test like the SAT is different, and your experience taking the test for the first time may vary drastically from mine. But generally, this is what I took away from the test and what I found helpful to consider for next time.
If you're nervous about taking a college entrance exam for the first time, my advice is to try and get as much practice in as you can, and always remember that your first try isn't your only chance—you can take these tests multiple times and utilize resources such as super scoring to boost your college applications.
Tell us about your first experience taking a test like the SAT or ACT. Did you learn anything valuable that you were able to put to use on your second try?