Yep, here comes that dreaded word: studying. For most students, it rarely comes easily or effectively. Typically procrastination and an overall lack of motivation prevent us from taking those key steps toward making the grade.
Regardless of how badly you wish to score an A on an upcoming exam, it can be challenging to discipline yourself and commit to a solid study schedule when procrastination is your biggest enemy. Often times, even once you find the motivation to finally sit down and crack open that textbook, your study habits can be far from productive . . . which certainly doesn't benefit anyone!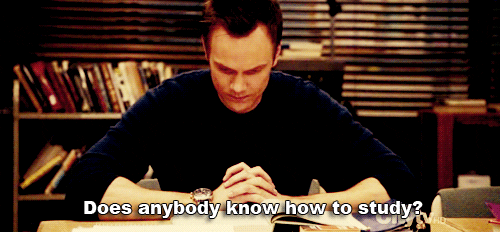 Via giphy.com
The key to studying is more than just tackling procrastination and generating motivation. It's about studying in a way that actually makes a difference in what you learn and how you retain it.
So, do you think you know how to study effectively? Consider some of the following ideas in order to further improve the impact of your study habits.
Create a study space
Find a spacious and organized desk area that's clear of clutter and other distractions. Keep go-to materials close by, such as sticky notes, highlighters, and erasers. By designating a specific area just for work, your brain can quickly shift into study mode once you sit down. Ultimately, a space designed exclusively for studying will not only improve your focus but also help your brain recognize when it's time to sit down and really work.
Gather materials beforehand
Before sitting down to study, double check that you have everything you need. Aside from required textbooks and other various reading materials, remember to bring extra writing utensils like markers and highlighters for note taking. Always have a blank sheet of paper nearby to jot down important content, new material, or concepts you may have forgotten. Having everything laid out beforehand helps prevent distractions from popping up once you actually start studying.
Take notes as you read
Just simply reading through new content won't leave a lasting impact. To ensure you fully comprehend your readings, take notes on everything: things you know, things you don't know, things that are interesting to you, or things you think may show up on a test. By doing so, you aren't just scanning pages with meaningless words—you're actively working to grasp and retain the concepts found throughout your readings. Also, rewriting notes, particularly in your own words, makes it easier to memorize for the future.
Shut off all electronics and other distractions
In order to improve your overall focus and quality of studying, make sure to shut off your phone, computer, and TV. Keep them at a distance so you won't be tempted to check any text messages or social media updates. If you plan on listening to music, pick a calming playlist designed specifically for studying. Typically, classical music or music without any words is best when you really need to focus. As far as other distractions go, try to be somewhere quiet where you know other people won't disrupt you.
Prepare a snack
Hunger can be a big enough distraction itself. You'll hardly be able to focus on what you need to while your stomach is growling away! Keeping a healthy snack nearby can also help give you the energy you need to tackle big assignments. Munching on anything from apples and peanut butter to carrots and hummus is a surefire way to keep you motivated and sated as you study.
Stay hydrated
Keeping a full water bottle nearby will help prevent that sluggish feeling that starts to come around after a little too much studying. Not only is staying hydrated healthy for your overall well-being, it is also a great way to feel refreshed while you study.
Get creative
If possible, find ways to make studying all the more exciting. Create colorful and vibrant notes, make up songs to memorize vocab, or draw pictures to help you remember key concepts. You can also color-code your flashcards, use bright sticky notes, or even look into making a mind map, Try to use your imagination in any way you can in order to switch up your traditional habits and take some of the everyday dullness out of studying.
Take breaks
While studying, it's important to make sure you aren't overworking yourself. The more you push yourself past your limits, the more likely you'll end up zoning out on everything you're supposed to be studying altogether. Pulling an all-nighter while cramming for a big test the next day might seem like a good idea at first, but it's more than likely not. Giving yourself ample time to relax for several minutes between bouts of studying helps your mind feel refreshed once you dive back into that textbook. Stepping away from the material for just a few minutes so you can walk around, go outside, or, yes, even check your phone, will make studying just a little less daunting and all the more effective in the long run.
Taking small steps toward a better studying experience may not seem like much at first, but even the tiniest improvements are certain to make an impact in the long run. Just take some of these ideas into consideration and watch your focus and motivation benefit along with your grades!
Have any other good study tips? Tell us on Twitter!