Let's face it—no one likes studying for a test. Even if you like a particular subject, there's something about forcing yourself to sit down and repetitively absorb information that can make anyone cringe. But, thankfully, those lackluster study sessions can now make a world of difference not just for your test grades, but for hungry people in need of food.
FreeRice.com is a nonprofit website run by the United Nations' World Food Programme. As outlined on their website, they have two goals:
Provide education to everyone for free.
Help end world hunger by providing rice to hungry people for free.
So how does it work? Students can pick a subject—math, English, chemistry, even SAT preparation—and the website will provide multiple-choice questions. For every correct answer, 10 grains of rice are donated through the World Food Programme. It's that simple! Well, depending on the question, that is. . . .
Here's a sample question from the SAT prep section: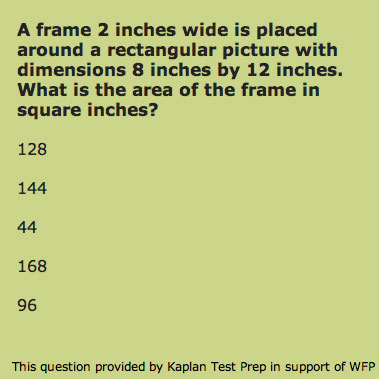 Can you solve that? If so, then you can help feed hungry people too.
Students and teachers can sign up for an account, which enables you to track totals and even create groups so you, your friends, and your classmates can team up together to rake in the rice.
Since FreeRice began in October 2007, they have donated over 95 billion grains of rice! That's a lot of meals for a lot of hungry people, so get studying, and make a difference in the lives of those in need.