As much as you want to push your students to be the best that they can be in everything they do, it's also important to remember how much stress the average teenager is under. On a given day, your students must juggle some combination of classes, extracurricular activities, homework, hectic social calendars, familial demands, and after school jobs—not to mention the college application process. Understandably, many students find it difficult to cope with the pressure, and some even buckle beneath it. So what can be done to help relieve the stress of their pivotal and exacting high school years?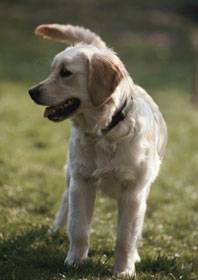 School officials at Prospect High School in Mt. Prospect, Illinois, have taken an innovative approach. Their counseling team now counts a huggable golden retriever named Junie among its members. Junie is the school's official "Counseling Assistance Dog," and some of her many services include helping students improve their social skills and reduce stress, anxiety, and depression. I've heard of some colleges bringing therapy dogs on campus during finals to help students relax and refocus, and I was elated to hear that at least one high school was following suit.
According to a recent Associated Press article, other schools across the country are also developing off-the-beaten-path tactics to help students manage their stress, such as yoga classes, homework-free nights, and free time between classes. Two high schools in Maine have even created "wellness rooms" where students can take advantage of a variety of stress-reducing treatments, such as massage therapy.
The article also notes that roughly 8%–10% of teens ages 13 to 18 have an anxiety disorder, and school officials are reporting an increase in mental health referrals. So while you may not be ready to introduce a four-legged counselor to the halls (and carpets) of your high school, clearly, any stress-reducing opportunities you can offer, however small, may benefit your students. As a counselor, you can start by checking in with your students periodically and asking about their stress levels, making sure they can comfortably handle their course load, and maintaining an open dialogue with parents so they can contact you with any concerns.
As adults with our own unique brand of stressors, it's easy to forget just how trying the life of a teenager can be. When I think back to my high school years, I recall feeling overwhelmed from time to time because the days kept coming in rapid succession, each one filled to the gills with both scholastic and social obligations, and I sacrificed sleep to get it all done. It would have been nice to have a furry friend to hug or an occasional night without homework, some small respite from the immediacy and relentless pace of it all, and I hope that more schools will start offering similar support services.
What are some of the ways you help your students reduce stress? Share your thoughts in the comments!