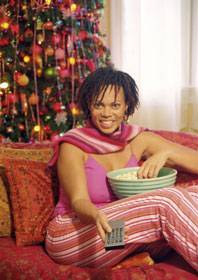 When it comes to my taste in movies, I consider myself something of an elitist. If it's #1 at the box office, I probably won't like it. I prefer classics like Barefoot in the Park or the more modern but still timeless works of Wes Anderson. But every year, by the week of Thanksgiving, all bets are off and I metamorphose from a snobby film buff into a sappy fool.
Yes, I'm obsessed with holiday movies. A stack of them have currently taken up residence atop my television so they're easily accessible. And I don't care much for new releases. I almost exclusively watch the ones that have stood the test of time. They're like old friends who never change and come to visit every December, a comforting constant amidst all the holiday hubbub. I dream of taking a night train to Vermont with Bing Crosby and often wonder what I might look like as a claymation elf enlisted to help Rudolph save Christmas.
While it's true that most of these movies are lighthearted "bubblegum for the brain," I think that part of the reason they've become perennial favorites is because of their lasting messages. Whatever you may be celebrating during your much deserved winter break, take a little time for yourself, sit back with a cup of cocoa, and watch (or re-watch) one of these holiday classics, all of which are rife with life lessons you can take back to school with you in January.
Wishing you a happy holiday season from CollegeXpress!