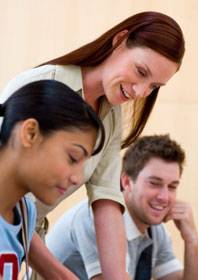 Once upon a time, when I was about halfway through my undergraduate studies, I somewhat unexpectedly became a transfer student. After high school, I decided to live at home and attend a nearby state school to save some money. Though I was going to a good school, in the back of my mind I'd always hoped to transfer to a great school, a school I felt I could be proud of. And then one day, after a series of serendipitous events and decisions, the stars aligned and I was packing up my little car and heading to Austin to finish my degree at the University of Texas. Walking past the iconic tower on the way to class every day, I was brimming over with the pride I'd been missing for the past two years. I'll bleed orange 'til Gabriel blows his horn.
According to research conducted by NACAC, I'm not alone in this experience. Approximately one-third of college students will become transfer applicants at some point. That's a large number of the college-bound students with whom you work so hard to devise the perfect post-high-school plan of attack. But transferring to different schools doesn't necessarily mean that there was anything inherently wrong with the schools these students started at. The decisions a teenager makes can be mercurial, so it stands to reason that many college students change their game plan as they become adults and refine their interests.
As a college counselor, your focus is on helping students navigate the first-time freshman college application process. But with one-third of your students likely to become transfer applicants one day, discussing the possibility of changing schools and what the transfer process entails might be well-advised.
Anatomy of a future transfer applicant
College students can end up transferring for any number of reasons. Some of your high schoolers already might be making the conscious decision to become transfer applicants one day. Many students attend community colleges to save money on some basic course work before splashing out on a more expensive school for their major courses. Some students may not have the qualifications for acceptance at their dream schools, and starting out at less selective institutions is a good way to boost their academic performance and become attractive candidates for transfer admission. Still other students will get into a school they thought was a great fit and then decide it's not quite right, or they'll change majors and find another school with a better program in that subject. Whatever the case, transferring can be a great option as long as students know what they're getting into.
Help them plan ahead
If you think there's a chance a student might become a transfer student, apprise them of the options, requirements, and fine print involved in the process. Many schools have articulation agreements through which students can complete a given amount of course work at one school in order to be guaranteed admission at another. That can be a great option for students who want to save money at a less expensive school. Students who already know which school they want to transfer to should be aware of the minimum number of credits they'll need and the maximum number of credits they'll be able to transfer. If you have students who are starting out at community colleges, encourage them not to lose sight of their four-year college aspirations. Some schools will transfer all the credits earned by students holding associate degrees, so keeping their nose to the grindstone can pay huge dividends.
The pros and cons of transferring
In many cases, transferring is the perfect option. The NACAC report found that postsecondary grades are weighed more heavily than high school grades in transfer admission decisions, and standardized test scores are less important than performance in college-level course work, so students who had a less-than-stellar high school performance can erase some of the damage by applying themselves in college. Students with their eyes on pricey private schools can save money by starting out at less expensive state schools. And students who aren't sure what they want to study could start out at a community college or state school to take some time to explore their interests and the schools that will best support them.
There are a few potential drawbacks to transferring. Not all credits will transfer, and some credits may transfer but won't be applied toward a degree. Some previously taken major and minor course work could end up transferring as elective credits because most schools require transfer students to complete a specified amount of major and minor course work in residence. Some schools allow students to transfer their credits but not their grades or GPAs, which could be a crushing blow to a student with a sparkling transcript. There may be less financial aid available for transfer students, and any institutional scholarships they had at their first school will be forfeited. And, of course, there are the social challenges that transfer students may face. It might be hard to make friends in a sea of well-established cliques (though it's worth noting that many schools have clubs and events specifically designed to help transfers tackle that challenge head-on).
Though the ability to predict the future is, unfortunately, missing from the catalogue of a college counselor's many talents, taking some time to explain the options and the process of applying as a transfer will help your high schoolers plan ahead and think about the big picture.
For more details on the transfer process, be sure to visit the CollegeXpress page for Transfer Students.