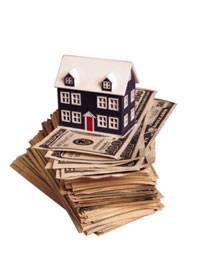 There's no doubt college is expensive, which is why many parents seek to help their children financially. Often, one of the ways they do this is through a home equity loan.
If parents don't have a college fund saved up, a home equity loan offers certain advantages. The interest rates are very good compared to other types of loans, and the interest is usually tax-deductable as well. Repayment terms are also quite flexible, with lenders allowing as long as 30 years to pay back the loan.
On the downside, you're pledging your home as collateral. So if you fail to repay the loan, you could lose your house.
Generally, the decision is going to be between the parent(s) taking out a home equity loan vs. the student obtaining more student loans, or a balance between the two. So let's take a look at both options.
The downsides of student loans
First, there's the question of student loan debt itself. The average college student now graduates with nearly $27,000 in student loan debt, according to the Institute for College Access and Success, while graduates of some schools average in excess of $50,000. Many of those who continue on to graduate school end up owing even more.
This type of debt can be a major burden on a young person just starting out on a career. Student loan debt is a major reason why many young people are unable to buy a home, despite the current combination of depressed prices and mortgage rates. It can also have a negative effect on career development, pushing someone into a safe job with limited potential in order to make the payments, rather than exploring other options that might be more fruitful over time.
Student loan advantages
At the same time, student loan debt is a pretty good type of debt to have, as far as loans go. The interest rates are very good, particularly for subsidized loans, and are lower than or comparable to rates on home equity loans. Student loan interest is also tax-deductable, up to $2,500 a year, even if you don't itemize deductions—it's treated as an adjustment to income, subject to certain limitations.
One of the biggest advantages of a student loan vs. the parents taking out a home equity loan is that, if graduates default on their loan payments, no one can take away their education! The only damage is to their credit score. Graduates can also get deferrals of up to three years on making payments on federally guaranteed student loans.
On the other hand, a person can't escape a student loan through bankruptcy if they become financially distressed. Regardless of whether it's a government-backed or private loan, they're stuck with it until it's either paid off or they die.
Private student loans
If a student has exhausted their eligibility for government-backed student loans, parents may wish to consider taking out a home equity loan so their child doesn't have to turn to private student loans. These loans carry higher interest rates and fees than federal loans do. They also require good credit, so a parent might end up co-signing for such a loan, meaning they're obligated for the debt just as they would be with a home equity loan. (On the positive side, private student loans have higher loan limits than federal loans and can be approved more quickly.)
About home equity loans
If you're going the home equity loan route, the first thing you'll need is home equity. Lenders are going to require that you have at least 80–85% equity in your home (that is, your total mortgage debt cannot exceed 80–85% of your home's current value) and perhaps more, particularly if you're looking at a loan large enough to pay a big chunk of college expenses.
With home equity loans, you have two options: a standard home equity loan or a home equity line of credit (HELOC). The standard loan provides you with a single lump sum, which you begin to repay immediately, usually at a fixed interest rate. Repayment periods vary, but are often 10–15 years, though some lenders may allow as long as 30.
HELOCs
With a HELOC, the lender establishes a maximum amount you can borrow, which you can then draw on as needed. This provides flexibility for situations where you may not know exactly how much you'll need or if you need to borrow money periodically over a certain length of time. You might consider this if you're planning to give your student a certain amount of support every semester, or if you're going to be covering ongoing expenses that may fluctuate.
With a HELOC, you get a certain period of time, usually a number of years, to draw against the line of credit before you begin paying it back. You only pay interest during this period and the loan is typically an adjustable rate. After the draw ends, you begin repaying the amount you borrowed, at which point many borrowers convert the loan to a fixed-rate. You also typically pay less in fees (some have no up-front fees) than on a standard home equity loan, but the interest rates tend to be higher.
Because both standard home equity loans and HELOCs are considered a type of mortgage, the interest is tax-deductable provided you have less than $100,000 in total home equity debt. With either loan type, you can use the money you borrow for any purpose you wish, include college expenses.