I was raised Protestant, but, truth be told, I was never really thrilled with the religion thing. With that, going to a Catholic college was nowhere on or near the list of things I wanted out of my future college. Somehow, though, I found myself enrolled at Merrimack College a small, independent Catholic school in Massachusetts. As it turned out, the school proved to me that sometimes the things you think you don't like or don't want are the ones that you need the most.
First impressions: the college visit
When you drive onto Merrimack's campus, you are greeted with the beautiful Collegiate Church of Christ the Teacher. Further in you'll see another small white church next to the student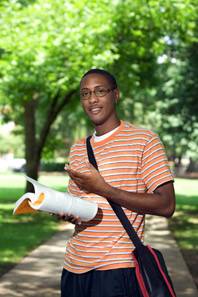 center. As lovely as those two buildings were, as a Protestant kid who never enjoyed the church experience, I was overwhelmed. Not to mention, it was and is still pretty common to see a priest walking across the campus in his habit (something I happened to see on one of my first visits to the school). Let's just say that upon seeing that priest I wanted to run far, far away, screaming with arms flailing. I had only been on the campus for less than 10 minutes and was already seeing a multitude of religious red flags—things that at that time, I could not identify with. There was more to Merrimack, though, than just what I could visually see and getting through the college visit would prove to be life-changing for me.
The decision
When I was faced with finally making the official college decision, oddly enough, Merrimack prevailed as my choice up against the University of New Hampshire. Despite the "scary" college visit, Merrimack was a school I couldn't seem to shake off my list and it landed in my top two.
I chose Merrimack for a myriad of reasons, none of which included its religious affiliation, but everything to do with all that UNH lacked. The campus was close to my home, small so I could never get lost (I could not find my way out of a box if I wanted to and yes, I do see the irony with UNH being so huge), they offered the major I wanted (communication), and overall it just seemed like a really great, positive environment. In so many words, I really felt that there was more to this school than I could find anywhere else.
Orientation day
September finally came around, and it was time to move in. All of us new freshmen were handed an outline of the day's events. One of the things on the list was a Catholic mass where families could spend part of the day together in prayer before leaving their children and going back home. I thought all of those things on the flyer were mandatory, so my family and I reluctantly walked over to the outdoor mass. It was one of the most uncomfortable things I could have experienced as a nervous freshman and a confused Protestant. The "what did I get myself into" question kept streaming in my mind. Is there an eject button out of here?
Moving forward
I pushed through the awkwardness of that day and managed to find my footing as the school year began. What I came to realize was that Merrimack wove its core Augustinian values into campus life and overall atmosphere—and those things made me fall in love with the school. The backing of the Augustinian tradition was never lost on the way the school operated because you were surrounded by people who looked out for you and who wanted the best for you. I never felt lost or without people who cared for me and I think that is what made all the difference in making Merrimack my second home.
What it was not about was pushing Catholicism onto anyone; if you wanted to be involved in campus ministry, there was incredible opportunity for you to do so and if you didn't, no one would think twice about it.
Transformative experiences
Merrimack is such a tight-knit community, which allowed my experiences to be incredibly special. I was given the opportunity to go on retreats, participate in community service, and also be part of a trip to Italy where I learned about Saint Augustine and Catholicism—I mean, how many people can say they were part of a mass inside the Vatican or stayed at a convent in San Gimignano, Italy?
While I knew Catholicism was not for me, I still felt oddly connected to the teachings of Saint Augustine and was able to appreciate the religion more than I ever had. Looking back on my time there, I think what I was missing was a sense of self and direction, but, somehow, I was able to find it through this Augustinian school.
Finding your perfect school
This isn't a blog about why Merrimack is great, because what was perfect for me may not be perfect for you. It's an example of how something so surprising and unexpected can change your life. So if you are hung up on one little thing about a school, but love everything else, that might just be the place where you belong. At the end of the day, I am a better person for going to Merrimack, and the experiences and friendships I had there will last a lifetime.