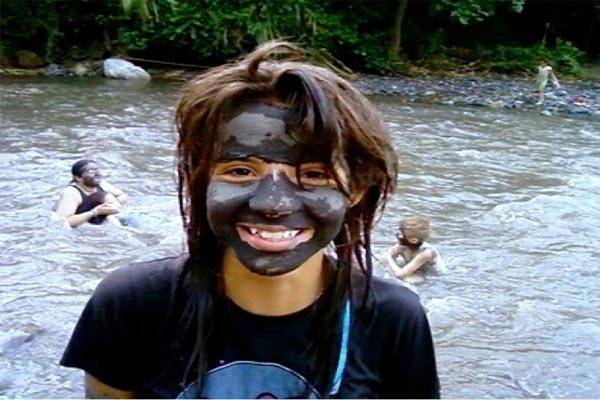 A student from Colombia shares her journey coming to the United States and her quest for racial tolerance throughout high school and college.
I used to wake up to the sound of vallenato, the representative folk music of Colombia. I was born and raised in a confined town called Villeta, which translates to "Little Village," situated in Colombia's mountainous central region. I spent most of my afternoons playing outside with my friends, getting dirty, and scratching my knees. Once I could no longer see the sun, I would hear mi mamá call my name and say, "Nana, pa'dentro! Ya es hora de entrar" ("Nana, come! It's time to come inside") My friends and I never fit a particular group, much less a specific race. Race was never a prominent characteristic; we were all the same regardless of our skin color. Nobody would ever mention "my black/white friend" did this or that; it was simply "my friend." As a result of the inclusiveness and acceptance among my friends during my childhood, I grew up ignoring how ethnic and racial discrimination were and continue to be a derogatory social problem.
I came to the United States when I was 14 years old to live in Baltimore, Maryland. I was thrilled and in disbelief that I was finally able to come to this country and experience the widely coveted "American dream." There was a certain infatuation with the idea of fearlessly pursuing one's dreams and achieving an enigmatic glee. A couple of weeks after my arrival, I enrolled in Dundalk High School. My family and I had driven past the school a few times before; I felt nothing but excitement. I could feel my heartbeat rise, my stomach twist into knots with anxious enthusiasm, and my leg jitter. I felt this way not only because I knew I was going to spend the next four years of my life in this building, but also because it would be the start of something long awaited and highly anticipated.
My first day of high school finally came. I woke up terrified! I had expected this day for so long that I did not know whether I was ready. Approaching the school, I was soon consumed by the thought of the impending commotion. I was hesitant yet uneasily hopeful. I wanted to make the best out of this day, so I was determined not to let my nervousness overtake me. I was put in the ESL program, with other students whose native language was one other than English. My ESL class was my first period, which came as a great relief, because I would meet others in similar situations. I was fascinated to see people from all over the world. Most of them were from Central America, some from Asia, and some from African countries such as Morocco and Nigeria, among others. I found it unbelievable to meet such wonderful people with rich history. I was relieved to meet the Hispanics because we, from the start, had a thing in common: our language. However, I did not automatically identify myself with them. They were simply people who, like me, spoke Spanish.
After my first-period class, I went to my second, English. I was slightly worried because I knew I would not understand anything, but to my fortune, there was a co-teacher who spoke Spanish. There were other international students among my classmates. I recognized most of them from my ESL class, which made me feel more at ease. The co-teacher, Mr. Holmes, translated and explained everything I needed to know. Despite my lack of knowledge in the English language, I was able to understand and get through my second class successfully.
After English, I went to my third class, American government. I was confident that I would find the same people from my previous classes but this time, I did not know anybody and nobody spoke Spanish, not even the teachers. I was horrified! The teacher came and introduced herself to me but I simply responded, "Sorry, I don't speak English." Even though it was not expected of me to know English immediately, I still felt embarrassed for not knowing what to say. This caused me to feel uncomfortable and even inane for not understanding a single thing. Afterwards, it was lunchtime.
Where should I sit? And with whom? Those questions tormented me as I walked to the cafeteria. I could see the overly crowded room fill with more students rushing to the lunch line and to meet their friends; the walls painted with the school colors, green and gold, made it a somewhat more welcoming atmosphere. As I inspected the crammed room, I realized that I did not know anybody. I had no friends. I had forgotten that this was not like my old little village. You could not simply sit wherever you wanted and be cheerfully welcomed. In Colombia, there were no strangers; everyone was a friend to everybody whether they knew each other from before or not.
Once I was inside, I saw a different group of people at each table. It took me a moment to realize that most of the people were sitting down with other members from their own race. I did not pay much attention; I simply found it mere coincidence. A few minutes later, a Hispanic girl from my ESL class approached me and asked me to sit down with her. I was overjoyed to receive this invitation, so we sat down with a lot of other people, all of whom were Hispanic.
They were all from Central America; I was the only Colombian. I was overjoyed to have our language in common, because I felt as though it united us in some way. However, to my surprise, it was rather difficult to understand what they were saying. Although we all spoke Spanish, each one of us had a different dialect. There were lots of variations of the meaning of one simple word. For instance, at one point I pointed out that I liked the glasses of the girl sitting next to me; "Me gustan tus gafas," I said. Most of them stared at me and laughed. I was confused until they told me they had no idea what "gafas" meant. I told them it meant glasses and so they explained to me that for them, glasses would be, "anteojos, lentes, o espejuelos." Even though we all shared the same ethnicity, I still felt like a stranger among them due to our language barriers.
Moments later, I questioned why there were only Hispanics at our table. I wondered why there were no people from other ethnicities or races. They all knew each other, but they made a clear decision to sit with members of their own racial group. I realized that, from that moment on, I was going to be characterized as another Hispanic, as were the others. Each was recognized based solely on racial characteristics. I was baffled to encounter this phenomenon. I never identified myself as simply Hispanic; I never saw others as simply black or white. I was disappointed to see how people classified each other this way.
To me, it was demeaning because people are not what they look like. One person cannot be merely one thing. As humans, we are innately capable of being whomever we wish to be, and doing whatever we wish to do; being typecast exclusively on one's physical characteristics is not only loathsome but also damaging to the person, and to society as a whole.
As months went by, my English improved, as did my social life. Despite my lack of English-speaking ability, I started talking to other people who were not Hispanic. I created a group of friends who were all different in their own way. Some were Asians, Africans, African Americans, and Americans. I also became best friends with a girl from Morocco, Amina. The thing is, neither of us spoke perfect or "understandable" English, as people who heard us talk would say. But we did not let language, or our cultural differences, become a barrier between us. I was soon sitting with a variety of people. These people exposed me to new stories, new perspectives, and new cultures that opened my mind to a whole new world full of opportunities, which has served as inspiration to understand, to feel, to evoke, to risk, and to share new things.
Five years later, I am now a sophomore at St. John's University in Queens, New York. To my fortune, I have encountered a very multicultural community in my college. This, personally, is what I like the most. When I first arrived, I was surrounded by people from all over the world; individuals who were unique and different. Maybe it was because we were all experiencing that same emptiness in our stomachs as we began a terrifying yet exciting new phase in our lives, but everyone was very accepting of others. People cheerfully talked to one another without caring where one came from or one's appearance. It was a relief to see the easiness, comfort, and confidence people felt around others. I was satisfied to know that everyone was welcomed at St. John's; I felt at home.
But I have come to realize that it is society that causes our inaction toward this ongoing diversity issue. We need to realize the magnitude of society's responsibility toward one another. We also need to comprehend its need for awareness and immediate change. Even though our contemporary culture enforces unity and support, it falls short in teaching us to entirely accept others, or even ourselves. We often create imaginary barriers that prevent us from meeting new people, as well as experiencing and learning new things. As I continue to preserve my Colombian heritage, I remain hopeful that we can all move forward and start accepting and standing up for others fearlessly. I wish for all of us to embrace and cherish one's ancestry and culture in order to share our journey with those silent voices. We must rally for our community, for our family, for our friends, for ourselves, and for our future.