Harvard University, as the first college in the United States in 1636, initially had a student body of white, upper-class men, as many universities did then. In 2011, Harvard has one of the highest percentages of international students, who represent more than 20% of the student body.
Students from other countries are coming to the United States for college now more than ever. During the 2010–2011 school year, over 70,000 students came from India and China individually, over 20,000 from Canada, and 5,000 or more from France, the United Kingdom, Mexico, and Brazil each. Colleges in the United States are able to expand the diversity on their campuses through these impressive trends.
The benefit for students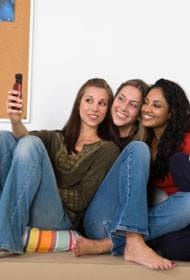 International students at colleges are a win-win for the abroad student as well as the school's community as a whole. Students who come to the United States from various countries are able to experience college in a way their friends from home may not be able to experience. The American education system is so different from anywhere else in the world (with the exception of international schools that follow American educational systems), and being able to live in such a unique place during a critical part of a young adult's development is so interesting! In addition, many students may not have been to the United States before, and coming to college here leads you to completely immerse yourself in a new lifestyle.
The benefits for colleges
On the opposite side, colleges are so fortunate to have students with extremely diverse and distinct backgrounds. International students are able to bring stories, experiences, cultures, religions, ideas, and beliefs to colleges in the United States that the campus population may not have been exposed to otherwise. Like I've explained in one of my past posts, "Culture on Campus," different cultures add so much to schools; for example, students with these different backgrounds can start or expand multicultural or ethnic groups and organizations. Also, students who are from the United States can learn so much about the world and other peoples' lives by talking to and befriending international students. Being someone that has friends from different countries at Boston University (which has one of the highest percentages of international students too!), it is definitely a rewarding experience learning about the differences, and sometimes similarities, of life in the States and life in other countries.
If you're looking for a college with even more diversity than others, The Chronicle of Higher Education recently listed some of the schools with the greatest number of international students. Some examples are the University of Southern California, University of Illinois at Urbana-Champaign, New York University, Purdue University, and Columbia University. The Chronicle of Higher Education has additional colleges listed to check out as well! In addition, some of the most popular cities where international students attend university are Boston, New York, and Washington D.C.
For international students, if you're unsure about attending a college in the United States, CollegeXpress has an entire site section dedicated to international students and their concerns or questions!