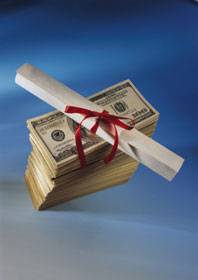 What is a major factor that hinders most potential college students from obtaining a degree that could open professional doors for them in the future? Money.
Texas is one state that is taking the reins on this challenge, striving to provide low-cost degrees to lessen student debt across the state. Texas Governor Rick Perry issued a challenge to Texas colleges and universities to create bachelor's degree programs that would cost students $10,000. Texas, along with most other states, has seen a drastic rise in tuition costs over the past several years and this attempt could make education affordable again.
In general, it is speculated that these programs will incorporate a combination of both in-classroom courses as well as online classes to keep costs down. Students will also have to keep strict schedules as these degrees will be structured to ensure graduation in four years.
According to The Texas Tribune, some universities offering these low-cost degrees include the University of Texas of the Permian Basin, which offers $10,000 degrees in chemistry, computer science, geology, math, and information systems. Another degree program offered between Texas A&M University in San Antonio and Alamo Colleges offers a degree in information technology with an emphasis in cyber security. Many of these degrees are arising from joint ventures between a university and a community college or a public high school system.
In order to make this goal feasible, schools are looking toward high schools to help with the effort. A degree program due to be launched in fall 2013 between Texas A&M University-Commerce and South Texas College-McAllen will offer a $10,000 degree program. If completed successfully, the program will award a Bachelor of Applied Science in Organizational Leadership. However, students will have to earn 60 credit hours while in high school through community college classes before coming to the University to complete the degree.
Florida Governor Rick Scott has recently joined this movement toward affordable higher education by voicing the challenge of a $10,000 degree to Florida's public community colleges. Community colleges are beginning to offer more than associate degrees, and the cost of obtaining a degree is often lower than a four-year college or university. A number of Florida state and community colleges have agreed to keep an open mind to creating these types of programs, including St. Petersburg College who wants to begin by reworking its technology management program.
Critics of the idea see the $10,000 cap unrealistic and argue that the state cannot expect a quality education to come from that sum of money while funding to higher education is being cut drastically every year. There are concerns that universities would have to provide lower quality services and significantly change the way their programs are structured in order to make this $10,000 goal a reality.
Do you think a $10,000 degree is a smart idea for public colleges and universities to strive for? Or will it lessen the quality of the education to an extent that students will not get as much out of the degree as they should? Leave your comments below!