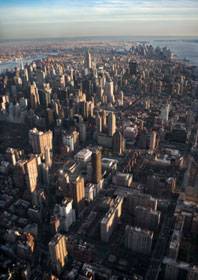 Have you always dreamed of attending college in New York City but are afraid that Columbia University and NYU are either out of your price range or not realistic academic goals for you? The answer might be closer than you think. The City University of New York (CUNY) is the public university system of New York City and comprises 24 institutions, both at the undergraduate and graduate level. It is the largest urban university system in the country offering community colleges, graduate schools of journalism and law, an Honors College, a college of criminal justice, and much more. Perhaps one of these institutions will fit your description of what you are looking for in higher education.
CUNY receives funding from both the state of New York and New York City. The schools are located in all five boroughs (Manhattan, the Bronx, Brooklyn, Queens, and Staten Island), and students may also take classes online. Profiled below are a few of the institutions that make up the CUNY system.
New York City College of Technology in Brooklyn, also known as City Tech, offers both associate's and bachelor's degrees, and focuses on technical and professional programs. It accepts about 87% of applicants and offers a wide range of career, counseling, and remedial services. The cost of tuition and fees totals under $6,000 for in-state students per year, making it a much more affordable school than many other public and private technical universities.
Borough of Manhattan Community College is a two-year institution granting associate's degrees and offers exchange and transfer programs with all other CUNY schools. Its campus is in the TriBeCa neighborhood in Manhattan, and offers a distance education program as well as on-site classes. The college enrolls students from over 155 countries.
Queens College, founded in 1937, is located in Flushing, New York and is a four-year institution offering bachelor's and master's degrees. The college admits approximately 30% of students who apply, making it one of the more competitive schools in the system. It is also one of the only institutions in the CUNY system to offer on-campus housing to students.
CUNY Graduate School of Journalism offers only an M.A. in journalism and is located in Midtown Manhattan. The institution attracts industry professional faculty from The New York Times, NBC Nightly News, PBS, and other major news outlets. It is a full-time program lasting three semesters and requires students to participate in a professional summer internship.
The Online Degree Program through the CUNY School of Professional Studies gives working adults the chance to earn a degree. It offers multiple bachelor's degrees as well as a Master of Science in Business Management and Leadership and a Master of Science in Information Systems.
The CUNY system is not short on academic and extracurricular options. Be sure to look into financial aid to see what you may be eligible for both as a resident and non-resident of New York. If you have always been enticed by the idea of living and attending school in The Big Apple, then one of these schools might be the right fit for your academic needs and your budget.