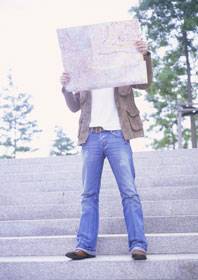 Move-in day is fast approaching for many first-time and returning college students after what always feels like the fastest summer to date. For new freshmen, the thought of bunking up with a complete stranger in a new environment sounds a bit intimidating, but fear not: you will be adjusted to your collegiate lifestyle in no time.
If you're heading off to a large public university within the next few weeks, there are some tips to keep in mind so that your first few weeks on campus go as smoothly as possible. Attending a university with a large campus and dozens of academic buildings puts you at a slight disadvantage initially over your peers that are attending smaller schools with perhaps only a couple academic buildings to navigate. Keep in mind the following advice when you first land on campus and before you realize it, you'll know all the shortcuts to class.
After you've settled into your room and unpacked, find a few new friends and explore the dining halls. Your school might have multiple cafeterias on campus, so it's good to know which one is closest to your dorm and which one is closer to your academic buildings in case you need to grab a quick lunch in between classes. If there is one main dining hall on campus, it will likely be swarmed during the dinner rush, so if you're in a hurry to get back to your dorm, try to eat before or after the initial rush.
Before the first day of classes, it's a good idea to map out which buildings your classes are held in so you can have an idea of where everything is in relevance to each other. On large campuses, getting from one class to the next could be quite a hike, and tardiness is not a good first impression to make on your college professors. This is important particularly when you are a freshman and taking a lot of general education classes, because they could be spread out all over campus, depending on which department they fall into. In order to avoid the awkward stares from classmates—or even worse, being called out on your tardiness by the professor—take some time to walk through campus and get your bearings so you won't feel so lost when you're on a time crunch.
If your school has public transportation on campus, it's wise to see where the pick-up and drop-off locations are throughout campus. You may find you only have 15 minutes to get from one class to the next and walking would take too long. Get yourself accustomed to the bus schedule just in case you wake up late one day and have to rush to an 8:00 a.m., or it's pouring rain and you would much rather be on a dry bus than splashing through puddles on your way to class.
Once classes commence, you will be able to get an understanding of your schedule and when you have down time to study, meet up with friends, or grab food between classes. In your first few weeks on campus, make sure to explore the library a bit and scope out other quiet study spots. Figure out how to search for and take out books at the library because you'll most likely have syllabi for your classes within the first week and your first assignments could be due immediately. Remember, as overwhelming as the campus might feel at first, it will soon feel like it's shrinking and you'll be the one pointing your peers in the right direction.