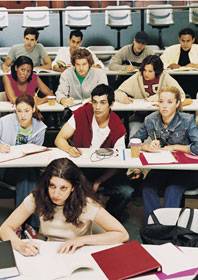 Immigration and higher education are crossing paths again in recent news. Last week, Massachusetts Governor Deval Patrick announced that qualified illegal immigrants will be granted the ability to pay in-state tuition at public colleges and universities in Massachusetts.
In a previous blog post, I wrote about a similar program created by The University of California—Los Angeles (UCLA) that was shut down before it got off the ground. The program was different in that it only existed online and through UCLA, but similar in that the cost for illegal immigrants to earn college credits through the program was significantly lower than even the in-state tuition rate for California residents.
The decision in Massachusetts comes on the heels of President Obama launching the Deferred Action for Childhood Arrivals (DACA) federal program in June. Under this program, qualified immigrants age 30 and under are protected from being deported for two years and are eligible to apply for a work permit. The Obama administration left the decision up to individual states as to whether to allow immigrants who qualify for DACA to pay in-state tuition rates. Governor Patrick sent a letter to the Board of Higher Education on Monday, November 26 to request that all 29 Massachusetts public colleges and universities take the tuition changes into effect immediately. Current students who qualify may request a refund for the current semester, but all prior semesters will not be refunded.
This equates to significant savings for qualified immigrants who are now eligible to pay in-state tuition rates which, at the University of Massachusetts Amherst for example, is around a $13,000 savings compared to the out-of-state cost.
This is not the first time the Massachusetts state house has been faced with the issue. In 2004, a bill was passed that would have allowed children of illegal immigrants to pay in-state tuition rates at public colleges and universities, but the governor at the time, Mitt Romney, rejected it. In 2005, the Senate attempted to pass a similar bill but it was declined by the House in 2006.
There are ongoing debates revolving around this topic across the country, and even politicians in Massachusetts are butting heads. According to an NECN article, Republican leader of the Massachusetts House, State Representative Bradley H. Jones, Jr., believes that measures should be taken to stop illegal immigrants from receiving in-state tuition rates because it doesn't focus on the needs of legal Massachusetts citizens.
This promotes questions: Will children of illegal immigrants be taking the spots of legal immigrants in Massachusetts public colleges and universities? Will there be any effect on Massachusetts taxpayers? Will public colleges and universities have to put more federal dollars into schools to accommodate for an influx of students? This topic will continue to raise controversy amongst politicians and citizens alike.
Where do you stand on the issue? Enter your comments below.