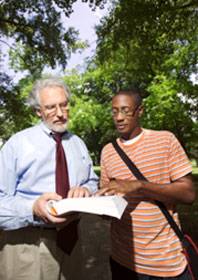 You started college at a large public university and it's everything you thought it would be. You've made friends with people in your hall, love the classes you chose, and get along great with your roommate. Life is good. Soon, it's time to pick classes for your second semester and you've figured out a schedule that includes all the classes you need to stay on track for your major. When you go to sign up, though, you are not eligible for one upper-level class because you need the professor's approval. This requires you to go to multiple offices getting the necessary signatures from the professor and department head; meanwhile, the class might fill up, leaving you unable to enroll. Frustrating to say the least, but this is an unfortunate part of certain large public universities.
This can be an exasperating process when it comes to getting into classes you need. Freshmen can often feel lost, wondering who to talk to and where to get administrative issues solved easily. If you have your heart set on attending a large college or university, check out the CollegeXpress list of schools that while large in size give students a sense of community. Here's some advice for you to keep in mind, too:
Be assertive. Follow up a visit to an administrative or professor's office with a phone call or e-mail if you haven't heard anything in a couple days. Don't be too overwhelming, but being aggressive can help you stay on top of the pile. Let the person know how important it is for you to move quickly on the issue because you need this class to graduate.
Talk to upperclassmen. Talking to students who have already dealt with these issues can be a great way to get advice. They might have encountered the same problems when they were freshmen and know the quickest way to get the issue resolved.
Make phone calls. Before physically going to an office for a signature, make sure the person will be there by setting up a meeting time first. Professors tend to be busy and are often not in their offices if you were to stop by unannounced. Don't waste time running around campus to different offices if you can make your life easier by calling or e-mailing in advance. If it is a time sensitive issue, make sure to let them know that you need the signature as soon as possible. Professors will understand how important it is to stay on track with your class schedule and will often do what they need to do to help.
Don't give up. If you really want to take class or need it for your major, don't just give up because it seems like a lot of work to get into the class. Sometime at big universities you have to work a little harder to get what you want since the student body is so large and these issues arise often. Take control of your education and don't give up on something you want just because it entails a little extra work. It will benefit you in the long-run.