It isn't often when the ripples of a controversial wave continue past the epicenter of a college or university. But recent developments at the University of Florida caught my attention: earlier this week, the University announced a proposal to eliminate its Computer & Information Science & Engineering (CISE) department to save about $1.4 million in the school's budget. College of Engineering Dean Cammy Abernathy would move the CISE faculty members to other departments at the college, and the program would also lose support for teaching assistants and research. UF would be one of the 11 state schools affected by the statewide university budget cut of $300 million.
I write this as an unbiased blogger: I am not a UF graduate, nor do I hold a computer science degree. But I am, unabashedly, a strong advocate for higher education. Naturally, when I heard news that a major degree program at a major public university might be cut, my heart broke for the students who may have their dreams crushed and the faculty members who took on these jobs to spread their passion to those willing to learn it.
Regardless of my own personal turmoil—this opinion is my own, and not necessarily reflective of CollegeXpress or Carnegie Communications—let's look at the facts. Sometimes, cutting a program might be the only way to solve a state school's budget crisis, but the cause of the uproar is the fact that it's one of the most popular programs at Florida's flagship university (U.S.News & World Report ranked the University No. 39 in their 2010 rankings of schools with the best computer science graduate programs). Additionally, the Bureau of Labor Statistics projects the computer science field to grow by 19% between 2010 and 2020; though that number is only about 5% higher than the average growth for all fields, it certainly isn't a decrease, showing that there will be a high demand for these graduates in the coming years.
So with all these positive statistics, we're left to wonder: is Florida Governor Rick Scott—and a multitude of other university and government constituents—justified in this decision?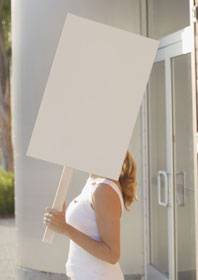 Students in the CISE program created a website called "Save UF CISE," which includes a petition, more positive statistics on the department, and even an area where industry leaders voiced their opinion against shutting down the program. Students even protested by forming a human chain around the department building, and rallied at Turlington Plaza on campus to assert their demands to Dean Abernathy.
To make matters even more questionable, Forbes contributor David DiSalvo expressed the likely confusion over Governor Scott's approval to fund a brand new school to be called the Florida Polytechnic University, near the University of South Florida (another school with proposed budget cuts). And while all this is happening, schools in other parts of the country are trying to expand their computer science programs, including New York University's plans to create an applied sciences campus in Brooklyn.
Today is the deadline Dean Abernathy marked to end internal discussion on the proposal. What are your thoughts on the events taking place in Florida? Leave your opinion in the comments section.