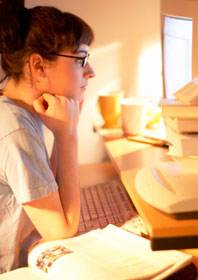 Harvard University and Massachusetts Institute of Technology (MIT) have combined efforts to found EdX, a nonprofit organization designed to offer free online courses to a variety of students around the world. It was created with the goal of providing an education to students of varying ages, income levels, and backgrounds at a very low cost. Recently the University of Texas system, totaling nine universities and six health institutions, announced it will join the venture offering up $10 million toward the program. The University of Texas follows the University of California, Berkeley in joining EdX, the first outside schools to join the founding schools, both located in Cambridge, Massachusetts.
According to the website, UC Berkeley is currently offering two classes through EdX for the fall 2012: Software as a Service and Artificial Intelligence. Due to budget issues, the University was not able to contribute funds to the organization.
The addition of the Texas system will increase the number of schools involved significantly. According to the website, since its founding in May 2012, EdX has received more than 140 requests from interested institutions around the world to join the EdX platform. They will be adding, what they call, "X Universities" in the near future, but no new schools have been announced since the University of Texas.
The University of Texas will offer its first course in summer 2013 from the University of Texas at Austin. Following that course, four more will be added in fall 2013 for students to choose from. This partnership will allow University of Texas faculty to be known to students throughout the world. As of now, courses are free to sign up for, but a small fee is likely to be implemented in the future for students who would like a certificate for completing a course.
Education researchers, mainly comprised of faculty members from participating institutions, will use the data collected from EdX courses to better understand how students learn and what they are taking away from the classes in order to develop more effective online courses. There is no admission process to enroll in EdX courses, as they will be available to anyone around the world who has internet connection. Currently there are seven courses being offered to interested students, but as the program grows a larger variety of courses will be available.
Each course is well-staffed, with one or more professor and some with research assistants and teaching assistants. Some courses require prerequisites or certain educational backgrounds. Books or other materials may be required as well, as there are assignments and exams throughout the length of the course.
Giving students of all means and backgrounds the opportunity to take rigorous classes at reputable institutions opens the education doors to an unlimited number of students. There is a growing demand for affordable higher education. Many prospective students can't keep up with the increase of tuition and fees at many private and public institutions and this type of organization is helping to fill that void.