It happens all the time these days. You e-mail a friend asking if he or she would like to join you at a party, concert, or some other type of shindig over the weekend and you get something like this in response:

NBC via gifawesomeness.tumblr.com
GIFs have infiltrated the Internet and are changing the way we communicate with one another—so much so that two students at MIT have set out to quantify their importance.

Nerd Vandalism via 9gag.com
Travis Rich and Kevin Hu, graduate students at the MIT Media Lab, created GIFGIF, a website designed to study the use of and emotional reactions to GIFs. They discussed the project in a recent interview with Quartz.
"We were talking about GIFs one day," said Hu, "and we realized that they're becoming more and more serious of a medium. They're more popular, they're used for more things. And we realized that we could quantify this usage."
GIFGIF presents visitors with two GIFs and asks them to choose which one best represents a particular emotion, such as fear, excitement, or satisfaction. One of Rich and Hu's initial goals is to create a text-to-GIF translator that would generate a set of GIFs based on a piece of text, such as a poem. They're also interested in the sociological aspect of GIFs, and they've noticed that votes on the site vary from country to country, which, said Rich in their Quartz interview, "could help us understand how emotions are interpreted across the world."

Walt Disney Pictures via buzzfeed.com
Aside from facilitating the collection of emotional and cultural data, GIFGIF also allows the researchers to build a database that will help you find the perfect GIF for whatever type of response you'd like to convey.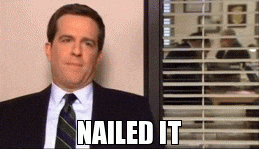 NBC via giphy.com
Since launching earlier this month, the website has drawn thousands of users each day. So if you need a break from hitting the books, spend a little time on GIFGIF—it's fun and you'll be helping to advance the study of human communication.

NBC via buzzfeed.com