I imagine there are many people who decide on a career field based on what they see on television. I know that there are many fields that look so glamorous and fun that even I would love to do them!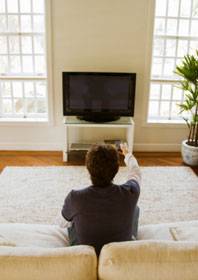 But how much of what you see on TV is true? Are there any accurate portrayals of careers, or is it all beautified garbage?
Let's start out with one of the best shows I've seen in a long time; a show revolving around a bloodstain pattern analyst who moonlights as a serial killer. (Hopefully, you won't be interested in the serial killer aspect!)
Dexter may focus more on the shady nighttime dealings of a "moral" serial killer, but we do see a good portion of his day job. Let me give you an outline of the life of a bloodstain pattern analyst.
A day in the life
Using your expertise, you will be attempting to piece together the story of a crime scene. What type of weapon was used? Where was the victim/suspect going? How many wounds did the victim suffer?
You should be prepared to spend your days responding to crime scenes whenever they are found, taking photographs, collecting samples, writing up reports, and testifying in court. This can be a dangerous job, because you will be spending a lot of time around hazardous body fluids, and proper precautions must be taken.
Education
Luckily, only a bachelor's degree is required for most positions, although some may require a few extra certifications. As this field continues to grow, many jobs are requiring a master's degree as well. A degree in a natural science is best, as you will need a strong understanding of the properties of blood, and how it flows through the body. The University of Central Florida offers a B.S. in Forensic Science, which has both an analysis track and a biochemistry track. You can also complete a master's degree program in forensic science. Boston University would be another excellent school choice thanks to their biomedical forensic science department.
Your future
Many people estimate that the growth across all specializations within the forensic sciences will hover around 20% through 2012; most other careers have an average growth rate of 12%. On the low end, you may be making $30,000 annually, with the average being $55,000 and the high end being $83,000. With a master's degree and experience, you can expect to be above the average salary.
Is this job for me?
If you can't get through a medical drama, or cringe when you see a gruesome body or autopsy on TV, find another job! Oftentimes, you will be called to horrific and gruesome crime scenes. You should enjoy puzzles and problem solving, as most of your job will be to think outside the box and piece together the crime. Think of it as a giant word problem: "Jane Doe was walking down the street. Based on the position of her body, and the splatter of blood on the side of the building, where did her attacker come from?" If you can stomach the blood and gore, this can be a tremendously rewarding career for those with an inquisitive mind. And, you get to help solve crimes!
Unlike many other shows, like CSI or Law & Order, I feel that this series is portraying the job properly. While they don't go into extreme detail, they don't make it seem to be a glamorous job filled with high-end salaries for little to no work.
If you would've pursued this career based solely on Dexter, how do you feel now? Do you think it was close to reality? Or did they make the job much more glamorous than it really is!