Although not all events have finished, there have already been quite a few bright spots as the first week of the London 2012 Olympics is in the books. The medal count for the United States is currently over 60 and it could never have happened without some stellar athletes who have been in the forefront of their respective sports. Behind these athletes are strong families, strong coaches and mentors, and strong backgrounds in academics.
Olympic athletes are students, too!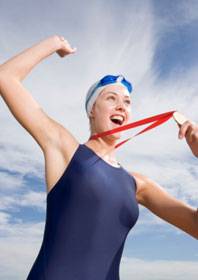 An athlete's career doesn't last long in most sports, so while it's vital to train and focus on your game, it's also important to think about the future. Where will you be 20 years after you win that gold medal? At the end of the day, it's imperative to have that degree to back you up, and these athletes have done—or will do—just that.
I chose three athletes who not only have all won one or more medals at these Olympic Games, but who are a great example of each stage of an academic career in conjunction with being an Olympic athlete: one having finished college and is headed into the "real world" after his career has now ended; one who is just about to start her first year at a major university; and another who has his first year under his belt and is looking forward to his sophomore fall term.
The Pro
You can't really talk about the Olympics without Michael Phelps as part of the conversation. This weekend, he became the most decorated Olympian ever, with a record 22 Olympic medals, ending it with beautiful gold after the final meet of his career: the 4 x 100-meter medley race.
Phelps graduated in 2008 from the University of Michigan—Ann Arbor with a degree in sports management.
Now that his Olympic career is over, Phelps plans to spend time working with his charity, The Michael Phelps Foundation. While not entirely 100% using his sports management degree, having a degree in general puts him in a great position to lead his organization at such a young age.
The new kid on the block
Aly Raisman is brand new to the Olympic scene, but without a doubt, she has already left her mark. At just 18 years of age and captain of the U.S. Women's Gymnastics team, she is at the very least leaving the Games with her first gold medal in the team gymnastics competition, bringing gold back to the United States for the first time since 1996 in that specific event.
After coming home from London, she will head down south to join the gymnastics team at The University of Florida. With only one loss this year to Alabama, I think Aly will find great comfort in this top gymnastics program, which will ultimately propel her to earning a degree in 2016.
If you have a huge interest in gymnastics as an athlete (or even a spectator), definitely take a look at these schools that marvel in men's and women's gymnastics.
The in-betweener
Kristian Ipsen is one part of a duo powerhouse diving team for the United States. At only 19 years old, he won the bronze medal in the men's synchronized three-meter springboard this year in London. He is currently on the dive team for Stanford University, crushing NCAA opponents with first-place wins in the one-meter and three-meter competitions.
By the time 2015 rolls around, Kristian will have graduated from Stanford and hopefully will be working hard to train for the 2016 Games in Rio de Janiero. In the meantime, I'm sure he will continue working with the Stanford team, as well as to earn a degree that will set him up for his future.
Stanford is a fantastic university to attend if you are a swimmer/diver. CollegeXpress has two awesome lists for you water bugs too: top schools with strength in swimming and diving for men and women.
Learning from the best
I encourage you to take a look at the London 2012 site and peruse the "athletes" section for your favorite Olympians. You'll see that the majority of them have gone to, are currently in, or about to head off to college. It's a great place for you to compare yourself to an idol and maybe follow their footsteps into the school they attended--and maybe even break their records while you're there.
And of course, when you see a school that sparks some interest, head back to CollegeXpress to find schools and search for scholarships that will make your athletic and academic dreams come true.
How great would it be to have an Olympic medal and a college degree?