The party is over for six University of Michigan fraternities and sororities, which have been suspended after wreaking havoc at two separate ski resorts during weekend trips earlier this year. The extensive damages include smashed ceilings, broken walls, soiled carpeting, and ruined furniture.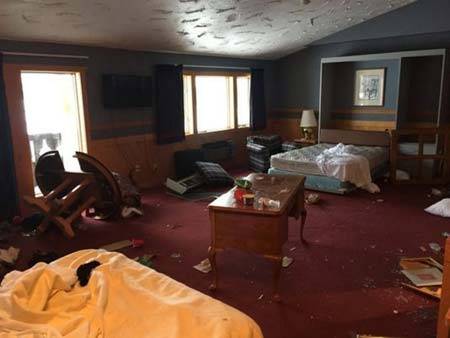 Fraternity Sigma Alpha Mu and sorority Sigma Delta Tau were implicated in the vandalism at Treetops Resort, a family resort located three hours north of U of M's Ann Arbor main campus. Hotel management told The Michigan Daily it has upped an initial estimate of $50,000 in damages by the two student groups to as much as $100,000.
Although the resort's staff said they tried to talk with students after receiving disturbance complaints from other guests, they eventually had to be escorted from the premises by Michigan State Police. Approximately 200 students rented 45 rooms at the resort.
"They caused an excessive amount of damage," Treetops manager Barry Owens told The Detroit Free Press. "The rooms were just a pigsty. Unfortunately, I've been in this business for 30 years and it's the worst condition of rooms that I've ever seen."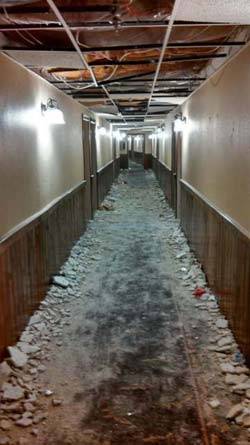 According to Owens, the group didn't even ski.
Sigma Alpha Mu Michigan chapter President Joshua Kaplan was quick to issue an apology via -email, saying the fraternity is "embarrassed and ashamed of the behavior" of some members.
"Our chapter accepts full responsibility for this incident, and we will be working with the management of the resort to pay for all damages and cleaning costs."
Meanwhile, four additional student groups—fraternities Pi Kappa Alpha and Chi Psi and sororities Delta Gamma and Alpha Phi—have been accused of vandalizing nearly $25,000 worth of property at Boyne Highlands. Students there stayed at a total of 12 private condos throughout the resort, which is located just an hour north of Treetops Resort.
Erin Ernst, a spokeswoman at Boyne, told The Ann Arbor News it is the worst damage the resort staff has seen in 50 years.
"They stayed in individual properties, and we saw damage of varying degrees," said Ernst. "The worst of the damages included things like broken doors and furniture, holes in drywall, broken fixtures, and, of course, damaged carpet."
Leaders from the University's Interfraternity Council and Panhellenic Association apologized for the destruction on behalf of all of the chapters involved.
"The events that occurred last weekend deface the honor we place upon each of these values, and we would like to express our regret that such unprincipled action reflects so poorly on our community," the association said in a statement.
Each of the six fraternities and sororities has been suspended by their national organizations.
Suspension includes a halt to all meetings, events, recruitment, social activities, and other activities, U of M spokesman Rick Fitzgerald said.
"This gives the University time to sort out additional details that are necessary before placing additional sanctions on the organizations or individuals involved," Fitzgerald wrote in an e-mail to The Ann Arbor News.
No arrests have been made, but authorities say a pending state police investigation could lead to criminal charges.
Let's hope the groups don't have any plans for Spring Break.