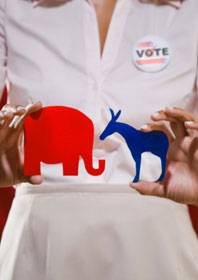 November 6 will usher in a new wave of eligible voters participating in their first presidential election, including members of Cynthia Edwards' social psychology course at Meredith College in Raleigh, North Carolina. For this young demographic of women, their introduction to presidential politics has been defined by attack ads and one-liners.
Instead of just accepting this trend as the new norm, the students offer psychological explanations as to why this election has proven to be so divisive.
Caught in the middle
Voters today experience cognitive dissonance regularly, as they are bombarded with non-stop campaign advertisements. Oftentimes, one ad may be in direct response to another on the same subject. It seems like they are in the middle with the ball being passed over their heads.
When their minds hold two ideas simultaneously that are inconsistent with one another, they will be quick to discredit the source that seems most contradictory to their belief.
Self-justification
With very few undecided voters remaining, once people make up their mind, they are likely to stick with their choice. At this point, several individuals seek affirmation that they are making the right decision.
Voters then justify their choice with information that presents their choice as correct, and discounts evidence that would suggest otherwise. Social psychologists refer to this phenomenon as confirmation bias.
Political cliques
In a largely dual-party system, it is almost certain that the winning candidate will come from either the Republican or Democratic party. Although they can impact the race in other ways, third-party candidates rarely stand a chance of winning the election.
This is because people have an inherent desire to be connected to others. Once in the group, members tend to show favoritism to other members of the group (i.e., party candidates). They also show negative feelings to unfairly treat others simply because they are in the out group.
Politicians are people too
When people identify themselves with a certain political party, they may tend to group the members of the other party together. They may catch themselves saying "those Republicans" or "those Democrats" as an all-inclusive label rather than acknowledging the differences of the members as individuals.
By taking identities away, it is much easier to now disregard their feelings and beliefs. It is also easier to berate an entire group rather than individuals because groups do not have feelings. Opponents then feel completely justified as they become more malicious because it isn't perceived to be against any person with an identity.
Mirroring the candidates
During the debates, chivalry was largely abandoned between the initial handshake and the families mingling afterwards. The candidates were blatantly aggressive, at times yelling, interrupting, and using aggressive hand gestures and facial expressions.
Partisan viewers of the debate tend to agree with their candidate. If the candidate is being aggressive to the opposition, viewers learn it is acceptable to also be aggressive to the opposition and behave in a similar fashion.
Appeal to emotions
Candidates have a keen ability to tap into voters psyche on a very personal and emotional level. They relate their potential policies to aspects that are very personal in the every day lives of the electorate.
When a person feels they are emotionally attached to one of the candidates, they can act emotionally to someone who might put down their candidate, or disagree with them. In some instances, even becoming irritable because an attack on a candidate is perceived as also an attack on them personally.
Despite these pitfalls of a divided electorate, having identified these barriers will enable Meredith College's young voters to cast a well-informed ballot as they enter the booth on Election Day.

Thanks to Jeff Canning at Dick Jones Communications for this entry!