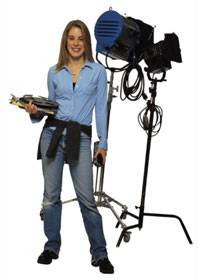 Maybe as a film student you have worked on a movie set, but it doesn't take seeing one to know that a lack of knowledge of the equipment can become a safety hazard. Although injuries and death on movie sets are rarely heard about for professionals, it hasn't prevented film students from being harmed while working on their student projects in past years.
With that being said, this is why Columbia College Chicago has teamed up with Filmskills to create a training course to ensure these accidents can be completely avoided going forward. Filmskills is a transformational educational tool launched by Focal Press—the leading publisher of media technology books—which provides resources for professionals and students in many areas, such as film and video production, photography, digital imaging, music recording, and much more!
The Safety First™ Training Course has been created to educate film students of the high risk and liabilities present at their time of filming. With the help of a trained architect in the film industry, Harry Box, the course was built based upon the training given to entertainment professionals in California, keeping students and institutions in mind.
The best part about this training course? Schools don't have to break the bank while paying for their students' safety. For less than $15 per month per student, the course is highly affordable and provides professional quality. When enrolled, students can expect to learn the safety practices of electricity and lighting; environmental and location safety; as well as working with vehicles, weapons, and heights. The program also has tests available for institutions to assess their students on their knowledge and understanding of the safety procedures they have learned.
As cliché as it sounds, safety always comes first. Hopefully Columbia College Chicago has started something that will influence others to join in on the prevention of film student injuries across the globe. You never know, they could be the next Steven Spielberg, right?