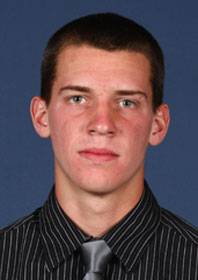 Football players just toss around the pigskin, right? Well, not necessarily—especially for one player at Lebanon Valley College in Annville, Pennsylvania. This summer, Ian Bond will be joining four other students in a research project that observes the theoretical side of quantum computing.
If you're like me, you have no idea what that means. So thanks to the magic of the internet, I looked it up. Webopedia says quantum computing "relies on quantum physics by taking advantage of certain quantum physics properties of atoms or nuclei that allow them to work together as quantum bits, or qubits, to be the computer's processor and memory," versus bits and binary code of today's computers. In other words, super high-tech stuff! And Bond is getting in on the ground floor.
"Quantum computers are still a ways off," Bond says. "Right now, it's just the theoretical groundwork being done for it. They have this programming language that simulates what a quantum computer would do on the computers we have today, so I'm programming some of the algorithms that would be used on a quantum computer."
The students are working together with professors Dr. Scott Walck and Dr. David Lyons in the project, which is funded through a grant from the National Science Foundation (NSF). Back in 2010, Lebanon Valley College was one of 14 grantees that to receive funding of $236,198. At the end of their research, the students will present their findings to peers at conferences.
So why research quantum computers? Bond, a physics major entering his junior year, says the benefits would be a sharp increase in performance speed and increased security compared to today's machines.
None of this is stopping his game, though. Football camp opens just as his summer research ends, where he'll be changing positions from safety to linebacker—a change he's anticipating since there's more action.
Bond is living proof that you don't need to be a professor to take part in research! Look at your future school's programs for research, and maybe like LVC, there will be opportunities available for science majors.
Image provided by Dick Jones Communications.